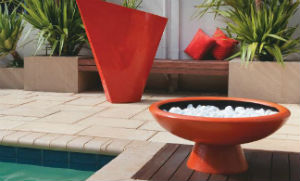 From pots to water features, this is the ultimate one-stop outdoor decor shop
Do you want to bring some colour into your home or landscape? Or are you looking for something to grab people's attention when they first enter your property or backyard? No matter what you're after or what style you prefer, The Outdoor Decor Company has something to spruce up your outdoor living area.
With a wide range of products on-hand, this is your one-stop shop for all things outdoor decor. From pots and wall art to water features and urns, The Outdoor Decor Company has it all.
The easiest way to add colour and interest to a landscape is with an attractive pot, and here you'll find a comprehensive collection of fibreglass pots in various shapes and sizes. The range is so extensive, you're sure to find something to suit — for example, recent arrivals include fibreglass pots in unique shapes such as boats and apples. Popular products within the range include planters finished with granite sand. The sand is embedded in the resin, giving the pots lovely colour and texture. The range also includes pots in vibrant colours such as paprika, red, chilli lime and orange — in fact, these are their best sellers.
Poly-fibre resin pots are also sold here, which are great hosts for plants in hot and cold climates as they retain moisture and keep out the cold.
To complement your new pots and add a peaceful element to your outdoor environment, you need a water feature. At The Outdoor Decor Company you'll find a wide range of unique water features sure to add a tranquil ambience and value to your home. In fact, the company can convert any pot into a water feature and even add LED lights to make it as usable at night as it is by day.
If a piece of art is needed to decorate a wall in your garden or outdoor room, there's a range of trendy metal wall artworks in various styles and sizes, including 3D pieces available in lively colours.
And, if you're looking for something out of the ordinary, The Outdoor Décor Company is definitely the place to go. It is a direct importer of an exclusive range of poly fibre resin pots and 3D metal wall art, so is able to offer wholesale and container prices. The store has a constant stream of products that are new to Australia. In addition, it can order stock in the finish and colour you need to make your outdoor living space just the way you want it.
For more information
The Outdoor Decor Company Unit 2–1 Harlond Avenue, Malaga WA 6090 Phone (08) 9248 9328 Fax (08) 9248 9328 Mobile 0406 773 521
Website www.outdoordecor.com.au Email info@outdoordecor.com.au Photography by Ron Tan