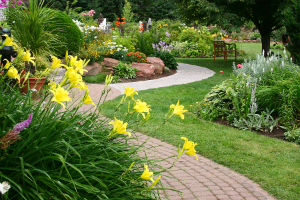 The star of this year's Melbourne International Flower and Garden Show was the planting
Story: Dean Boone, MAILDM
Photos: Patrick Redmond 
My recent trip to the 2007 Melbourne International Flower and Garden Show was all about discovering just what the new emerging Australian style of garden will be — and what a design showcase it was! The traditional gardens of yesteryear are well and truly gone with contemporary design, sharp architectural lines and a sea of soft foliage clearly showing the way forward.
The latest trend in Australian garden design certainly does seem to be all about entertaining — with style. If this year's show was anything to go by, ostentatious, gaudy or over-the-top gardens are passé. Instead, the cool, laidback charm of the Australian lifestyle is coming through. The result is sophisticated gardens that combine beauty with function and form.
Many of the displays used metal and timber to create structure in the garden. Well-defined paved areas were used to ground the setting or, equally, gravel was used to create a usable space. Funky urban furniture seemed to be favoured by most designers, which translates into gardens that are modern and sleek but also very cost-effective.
The single thing every garden had in common was in the planting. A love for, and appreciation of, just what plants can add to a landscape is certainly on the up. I'm a passionate plant person and believe there truly is the right plant for every place in the garden, no matter what the situation. Landscape design has for a long time been about structure and the harder elements of a garden, so it's great to see planting making a real comeback.
Drought-hardy, elegant and, dare I say, sexy native plants could be seen everywhere. Great swathes and drifts of foliage texture and colour made impressive statements in many gardens. What's more, they were being used to make a central design statement and not just thrown in as an added extra.
Where the planting wasn't native, the emphasis was certainly on selections that are known for being drought-hardy, robust and vigorous, all at the same time. It finally seems we have all come of age in our appreciation of our gardens and the wider environment. This was evident in lots of architectural foliage, loads of great colour contrast and some fine examples of flower colour that doesn't require lots of work to maintain.
Those lucky enough to visit the show learned a lot about what you can have in your own place. The gardens were achievable and, most importantly, the planting design could easily be interpreted to establish your own little piece of heaven. By creating a garden with year-round interest and using mass planting, you can have a garden that requires little effort to keep it looking great.
With the ongoing drought conditions and a realisation that water can't be taken for granted any more, it seems designers and gardeners alike are embracing the concept of the right plant for the right place and incorporating that into everything they do.