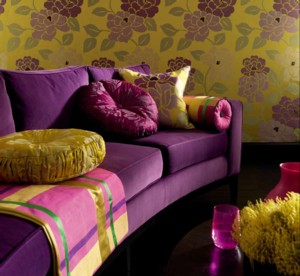 The biggest challenge when coordinating a home's interior is discovering what patterns, colours and shapes work best. We discover the latest fabrics, wall coverings, bedding and flooring from around the globe to unveil the latest looks for your home. The palettes you choose can influence your individual mood, so why not learn the meaning of colour from our experts. Managing director of Porter's Paints, Peter Lewis, goes back to basics, explaining how a colour palette comes to fruition. We also ask some experts to shed light on the upcoming trends in decorating. From contemporary to classic, we have the very best when it comes to furniture and furnishings for your home.
FURNITURE FIRST
We all have that favourite piece of furniture in our homes that speaks to us. Whether we love it for its sentiment, its colour or design, it dominates the room and transforms the space
Trend Setters:
FINISHES On show were natural finished steel, fabrics and leather. Timbers were also showcased in their natural beauty rather than heavy stains as suppliers reflect earth's natural finishes, giving us a relaxed yet smart-casual look.
WARDROBES The finishes for the interior of wardrobes and drawers have a fabric-look lining in white. This is achieved with the use of a strong laminate that looks like fabric but it is smooth to touch. The all-white look inside and out is very popular, with simple minimal details used in the handles and internals. Also increasingly popular is the use of American walnut. This is a fantastic natural wood with great character, requiring little or no staining. It also combines well with soft natural-coloured lacquer, giving you a smart yet casual look.
BEDROOMS A softer look in the bedroom with more upholstered beds in fabric and leather was evident, with lower, sleeker yet more casual styles using natural-coloured fabrics and linen. The beds are then complemented by combining natural-coloured lacquers or American walnut bedsides and dressers. A great combination was cabinets in dramatic colours, such as gloss-red lacquer, together with soft, natural fabric beds.
DINING TABLES Matt glass (finger-proof ), gloss polyurethane and marble tops. The all-white look and natural timbers were popular.
DINING AND OCCASIONAL CHAIRS Low back, curved shapes and a comfortable casual look.
SOFAS Square arms and softer-look cushions, and the use of naturals. These all combine to give a comfortable and relaxed look.
LIGHTING Modern lights with a classic twist.