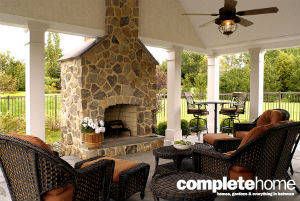 Modern outdoor furniture designed for entertaining in comfort and style
Outdoor entertaining is now a sophisticated affair, so you need outdoor furniture that has all the designer flair and contemporary styling you would expect of your indoor living furniture.
Nick Daniel's Heating, BBQ & Outdoor Mega Centre offers a wide range of outdoor settings so suit the décor of any outdoor room and to cater for large, formal gatherings or smaller more intimate get-togethers.
The Solo wicker dining set, for example, features a rust-free aluminium frame and is available in several colours. You can choose a seven-piece set (pictured here) or if you need to seat more than six, opt for the eight or 10-seat-setting. To complete the look of your outdoor room, there is a matching deep seat sofa set as well as complementary sun loungers.
For a look of elegance, consider the Monaco Travertine mosaic stone setting. The frame is of rust-free heavy cast aluminium and you have a choice of five mosaic tile table tops. The table comes in a variety of sizes and can be teamed with several different styles of chair.
For relaxed conversation there is the Las Palmas deep seat wicker sofa set. Various colour options are available as is a three-seat sofa (the two-seater is pictured here) and the frame is of commercial grade rust-free aluminium. To extend the look, there is an optional matching dining setting.
Of course you'll need somewhere to cook for your guests and the four-burner, fibreglass taupe slate look FIB 3 Island barbecue has it all: a granite benchtop, a porcelain enamel grill, hotplate and burners, a curved stainless steel hood with tempered glass window, stainless steel twin skinned doors, jet flame ignition to all burners, heavy duty casters and a total input of 60Mj/hr.
To enable the station to be place in the centre of a space, it is enclosed on all sides.
For your convenience, the store is open Monday to Thursday, 9am – 5.30pm; Friday, 9am – 9pm; Saturday 9am – 5pm; and Sunday 10am – 5pm.
NICK DANIEL'S HEATING, BBQ & OUTDOOR MEGA CENTRE
Shop 14/399 Melton Highway
Taylors Lakes Vic 3038
Tel: (03) 9449 1555
Fax: (03) 9449 1566
Email: info@heatingbbqoutdoor.com.au
Website: www.heatingbbqoutdoor.com.au