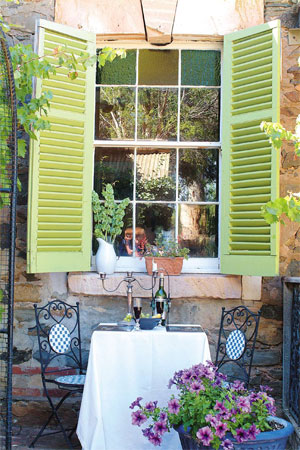 "Bread and butter, devoid of charm in the drawing room, is ambrosia when eaten under a tree." (Elizabeth Russell)
With spring in the air and the weather warming, it's perfect timing to dust off the outdoor furniture and once again think about taking our meals out of doors. With a return to favourable weather conditions, our dining can take on a celebratory mood if we choose to dine alfresco. Get ready to invite friends over for everything from a morning coffee or pre-dinner drinks, a casual buffet or supper to a relaxed Sunday roast.
There is something particularly liberating about shaking off the shackles of the dining room to take food out of doors. Away from the confines of four walls and the more formal-set dining table we are free to sit and linger over our meal and to take in the night air or warm sunshine. And, let's face it, in Australia it has become part of our way of life. So why do some people insist on turning an outdoor meal into a huge production number when so much of its appeal lies in its simplicity and relaxed atmosphere?
Now that's not to say just because you are choosing to eat outdoors you should serve any old rubbish to unsuspecting guests or family, just that you can allow good, simple food to speak for itself.
To keep your outdoor meals lowfuss this spring, I suggest you gather a few supplies that will be well used. A sturdy tray or shallow basket, for ferrying bits and pieces outdoors, will save on numerous trips back and forth from the kitchen. A large jug for water is also on the must-have list. Some pretty napkins are a good addition; cloth is best for ambience and the environment if you can manage to wash and iron them but pretty paper ones would do at a pinch. When it comes to choosing china and cutlery it may depend on how accidentprone your family can be and whether you would recover if your favourite dinnerware went crashing on the pavers. Personally, I consider all my china very usable and will take any of it, even my prettiest vintage pieces, outdoors; by always serving guests on nice china it is my chance to acknowledge that my visitors are special to me.
A friend of mine keeps a cute, old tiered trolley stocked with supplies in her kitchen that she can wheel outside at the slightest suggestion of eating outdoors. Being ready to turn any meal into an alfresco opportunity is part of the secret to fitting more outdoor events into your everyday life. If you are well prepared, it only takes a nice tablecloth and some candles to turn a very casual supper into a special event.
 Food can also be as relaxed or upscale as you wish. Even plain old water can take on a romantic air when served in a pretty jug with some slices of lime and lots of ice. One of my favourite things to serve outdoors is a laissez-faire version of the classic anti-Pasto platter — some nice cheese, olives, stuffed vine leaves and maybe some cold cuts all teamed with some good fresh bread and a nice lazy red wine and dinner is done. Anything teamed with a big, leafy salad is a good basis for an outdoor meal. In fact, salads such as tabouli, coleslaw, rice and pasta are good choices because they can be prepared ahead, freeing up the host and hostess from this chore on the day. This may sound somewhat un-Australian but there really is no need to fire up the barbecue on every occasion. Just panfry some nice fish or some schnitzels in the house and bring them outside to eat.
Of course, more complex meals still work outdoors. Have you considered de-stressing the classic Sunday roast by cooking it on the barbecue and teaming it with a platter of roast vegies served cold as a salad? Or, if you are hankering for one of those big family meals that can last all afternoon and into the night, why not have each family member prepare their favourite dish and serve it buffet-style on a big, long outdoor table?
Or take a lesson from cafes and group your guests at small tables for four or so and encourage them to move to other tables to chat to different people during the afternoon or evening.
If you think outside the box, you can gather outdoors for all kinds of occasions and meals — from children's parties to candlelit anniversary dinners. You may need to consider protection from the elements to avoid sunburn and some kind of physical or commercial bug repellent for both your food and your dinner guests. Some old-fashioned mesh food covers will keep flies off your lunch and some citronella candles should keep mozzies off your guests.
Don't forget to team your food and family with some suitable music drifting from the house or your iPod. What about some Verdi or the three tenors with an Italian feast, or a mariachi band for a fun-filled casual fajitas night? Regardless of what is on the menu and how much trouble you want to go to, it's all about gathering together with family and friends and making the most of the blessing of having food on the table.