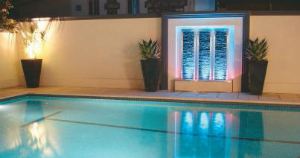 Custom-designed water features to add an individual touch to your home or business

Water Motion Energy (WME), an Adelaide-based company known Australia-wide for its custom-designed and built water features, continues to go from strength to strength. Since the business began nine years ago, it has expanded its regular client base of landscape designers, architects, pool companies, builders and homeowners to include some of
Adelaide's largest commercial clients.WME can create a custom-designed water feature for your home or business, or you can choose a beautifully designed feature from the popular kit-form range — either way, a WME feature is built to last and uses only the highest-quality components.
Another benefit is that WME features recycle water (making them compliant with water restrictions). This makes it possible to enjoy the soothing sound and look of water in your garden, and cool an outdoor space during the hotter months, without using precious mains water.
WME has a huge array of materials at its disposal, which means the variety of different looks that can be achieved is virtually endless. Natural stone, handmade textured glass, metals, decorative tiles and many other materials can be incorporated into the design of your water feature to provide you with an individual work of art that will enhance your indoor or outdoor living space.
The WME showroom in Adelaide has working features on display and is a great place to pick up design ideas to get your creative juices flowing. Or you can check out WME's comprehensive website, which is packed with ideas and inspiration to help you decide what look would best suit your own home, garden or business.
If you like, you can let WME design something for you or, if you prefer, you can present them with your own plans and let the experts at WME manufacture a water feature of your own design. Whatever your preference, the WME team is happy to work with you to ensure you receive a beautiful water feature with minimal fuss.
In addition to the head office in Adelaide, there are distributors in Victoria, Western Australia, Queensland and Northern New South Wales. Features can also be shipped anywhere in Australia.