When you need to stay cool in summer, it can be difficult making the choice between all the innovative products on the market — and now we have the added guilt of knowing what carbon emissions are doing to our environment.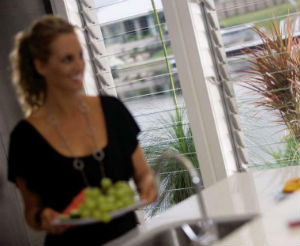 We have found that the solution may be a combination of systems to ensure you and your family can take each day as it comes.
Passive cooling:
Your home's orientation and adequate crossventilation are heralded as the two big winners in environmental design. These two simple considerations can have a massive impact on your family's comfort throughout the year, and there are numerous ways you can go about it.
If your home's footprint is relatively static and you won't be changing that in your renovations, you can still create channels of fresh air by paying attention to the location of doors and windows. Louvre windows are an ever-popular alternative as they allow you to control the flow and direction of air.
Large bifolding doors are also effective for allowing large amounts of cool air into the home on a hot day. And where this once was a problem as night fell and the mosquitoes came out to feast, developments in attractive and functional screening mean you can keep your home open to the breeze without scratching your way through summer.
Fans:
Good old fans are another winner in the summer months. They circulate air so you aren't left sweltering in stagnant hot, sweaty rooms and also do their bit to keep the flying insects to a minimum. Research has shown that, although fans alone do not actually lower the temperature of a room, if you are situated in the path of the airflow, you remain a comfortable 4–5 degrees cooler. Plus, if you combine fans with cross-ventilation, the hot air is encouraged through the nearest outlet. There is also a current trend towards old-school styling and the retro tilt box fan is back.
Air-conditioning:
Energy Rating (www.energyrating.gov.au) explains, "Contrary to common belief, only about 45 per cent of households in Australia own an air-conditioner." This comes as quite a pleasant surprise, though that is still almost half of the homes in this nation and it stands to reason that many of them were installed before appliance energy ratings were introduced.
Now we are much savvier consumers and know it isn't unreasonable to expect superior performance and efficiency from our electronics; and with electricity prices climbing, our motive also extends to the hip pocket.
Ratings labels on air-conditioners can provide a good starting point when looking to buy one and the recent change to a six-star system has brought consistency to the labelling. If buying a reverse-cycle air-conditioner, it will be rated in efficiency for cooling and heating, represented by a blue or red panel that extends according to its star rating.
But the star rating is not enough to know how efficiently an air-conditioner can do the job you need it to. It is always invaluable to speak with an authorised dealer as there's a number of different systems available, predominantly window-wall or split systems, and they vary in efficiency depending on the size of the space required to cool. Split systems are quieter in your home during operation but they are generally more expensive.
There is a new technology in air-conditioning, too; energyrating.gov.au explains: "The innovation is the use of an inverter or variablespeed drive in the motor system that drives the compressor. While these systems tend to look less efficient at full load (ie their star rating at rated capacity is not always as high as that of conventional air-conditioners), they tend to be very efficient at part-load operation, which is a more common mode in a typical household. So if you are likely to use an air-conditioner for long periods because you live in a hot climate, it may be worth considering an inverter system. They are, however, as a rule more expensive to buy."
Insulation & roofing:
The insulation of your home is another vital piece of the puzzle when trying to keep your home comfortable in summer. Insulation comes in many and varied forms and has recently become an area for concern with unlicensed contractors failing to take the necessary precautions. For that reason, it's vital that you do your research on home insulation before you begin.
The main elements of design for passive cooling are:

• Orientation for exposure to cooling breezes
• Increasing natural ventilation by reducing barriers to air paths through the building
• Provision of fans to give ventilation and air movement in the absence of breezes
• Provision of paths for warm air to exit the building
• Floorplan zoning to maximise comfort for daytime activities and sleeping
• Appropriate windows and glazing to minimise unwanted heat gains and maximise ventilation
• Effective shading (including planting)
• Adequate levels of appropriate insulation
• Use of light-coloured roofs and walls to reflect more solar radiation and reduce heat gain
This information is available in more detail at www.yourhome.gov.au
During summer, air-conditioners account for one quarter of the electricity used by NSW households. Save Power shares its cooling tips:
• Use ceiling fans instead of air-conditioners to save around $115 a year.
• Zone your home by using doors to divide spaces into smaller areas — it takes less power to cool a specific area than the entire house.
• Increase the temperature of your air-conditioning in summer to save $55 on your power bill and reduce carbon pollution.
• Use blinds to block out hot summer sun and save around $20 a year. Source: Statistics and information sourced from savepower.nsw.gov.au and modelled on a typical three-person home in NSW paying $0.23 perKWh.
Resources:
www.energyrating.gov.au
www.designingforclimate.com.au
www.savepower.nsw.gov.au
From Renovate