From the time you set foot in this incredible home, it is quality all the way.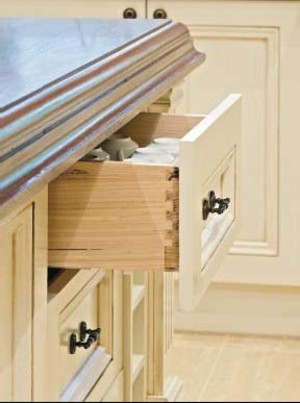 For Linda Harris of Harris House Kitchens & Interiors, this residence was an absolute dream to work on. Asked to design the two kitchens, four bathrooms, laundry and wardrobes, Linda wanted to complement and embellish the home's very classic, traditional style, but keep accessories modern.
The main kitchen included many highly specialised and even surprising elements, including egg-and-dart stone which can be seen on the pelmet, while solid Victorian ash was used in the cabinetry with dove-tail joinery throughout. Particular attention to detail has been paid to the cabinetry, from cupboard doors through to the panels and mouldings, which are all handcrafted with fluting and scroll details. Despite the classic style chosen by the owners, state-of-the-art stainless-steel appliances have been integrated into the design, adding a contemporary touch. The U-shaped kitchen has been laid out to be as easy to navigate as possible. The area surrounding the island bench is comfortable, while the island itself is central to all key areas — preparation, cooking, storage and cleaning zones. No space has been left unused, with extensive storage incorporated throughout the kitchen. In keeping with the classic style of the room, cupboards are the primary mode of storage and can be found even above the fridge, with lots of drawers and pantry space.
Every accessory has been meticulously considered, right down to the unique chairs at the island bench, a chandelier for lighting and ambience, and the old-world charm of the Perrin & Rowe Provincial tapware. All the bathrooms are unique and stunning. The master ensuite in particular took on a life of its own, with the look evolving again and again as it came to fruition. Like all of Linda's work in the home, cabinetry was Tasmanian oak with a traditional look. Harris House Kitchens & Interiors specialises in designing handcrafted pieces for all aspects of your home such as kitchens, libraries, bathrooms, furniture, built-in robes and dressing rooms. The team custom-make to your own specifications and personal taste, producing the highest-quality furniture pieces.