While each side of the exterior mirrors the other, the interiors were custom-designed for each of the owners.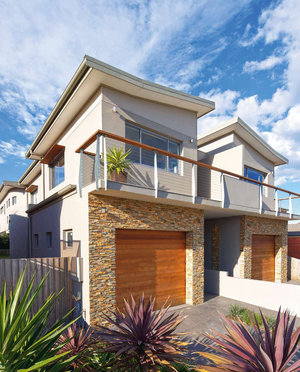 Rather than buying a pokey unit, a brother and sister duo decided to join forces and purchase an existing property in a far more desirable suburb and build a dream duplex where both their families could live in a lavish two-storey, four-bedroom affair. Enlisting the expertise of Coastal Construction Group, the dream duplex became a reality and was built on property that once housed a 1940s single-storey dwelling.
Each side of the newly built duplex consists of four bedrooms, a main bathroom, ensuite and powder room, with an open-plan living, dining and kitchen space. As there were two different couples involved in the decision making, there was a lot of consideration to ensure the final design would be functional for both styles of living. As a result, even though the exterior for each side is somewhat identical, the internal finishes reflect the taste of each couple. One side comprises a galley-style kitchen, spotted gum floorboards throughout and natural tones in the bathrooms, while the other side consists of an L-shaped kitchen with an island bench, tiled flooring and a striking black and white bathroom. Each is the same, yet beautifully unique.
On entering either side of the duplex, it is the breathtaking curved void and staircase centrally located over the dining area that will stop you in your tracks. Curving around and up to the first floor, the staircase is an impressive feature. The circular motif continues with the inclusion of a round skylight that brings in a deluge of natural light. The calculations and design of such an architectural feat were challenging, however Coastal Construction Group refused to allow this core feature to be compromised. The team double checked all calculations and worked very closely with the steel fabricator. The end result is a circular feature that brings light, space and energy into the home's design. The orientation of the building itself allows the sun to warm the house in winter while maximising cooling summer breezes. Natural light is heralded with the incorporation of multishaped windows lining the walls of every room. This ensures that optimal natural light is utilised. Despite all the personalised internal characteristics, the exterior of the home is flawless.
The duplex design allows both families to live collectively and separately at the same time. Altogether, no stipulation from the brother and sister duo has been denied by Coastal Construction Group in the construction of this dream duplex. Style, space, light and energy unite as one in a design that will certainly become a real family home (or two).