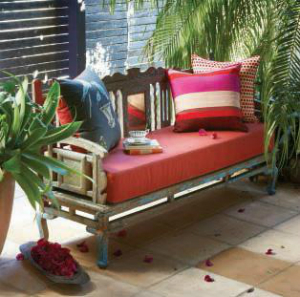 You can dress up your outdoor living areas with stylish and robust outdoor fabrics
Outdoor living and entertaining are integral parts of the Australian lifestyle and with the Mahesh Outdoor and Tick Tock Outdoor fabric stories from the No Chintz collection you can dress up any alfresco space, adding colour and comfort.
Offering something to suit every taste, Mahesh Outdoor is a subtle tonal woven plain fabric while Tick Tock is a classic woven stripe. They are both available in four colourways, ranging from rich reds (Chilli for Mahesh, Cherry for Tick Tock), classic pale blue (Sea) and neutrals (Linen and Latte), enabling you to co-ordinate a look that will complement just about any outdoor decorating theme.
The outdoor fabric collection is woven in Italy and is of a robust hard-wearing composition, which makes it easy to clean spills and marks. It is also soft and comfortable to touch and is available at an affordable retail price of $110 per metre.
There are myriad ways in which you can use this fabric collection, but a great starting point is to create an outdoor bench seat cushion and then accessorise it with scatter cushions. No Chintz is happy to custom-make bench mattresses to suit your setting or you can simply purchase the fabric by the metre and run up the cushions yourself.
Other options include a stylish new cushion for a sun lounger or why not dress up a garden bench with a tufted squab cushion? No Chintz can design a bench seat squab to suit your taste and budget. No Chintz can also make up chic but practical floor cushions with neat handles to make them easy to move or store, and versatile ottomans. From poolside to deck, these ottomans can serve as seating or side tables.
As the No Chintz outdoor fabric range is water repellent, stain- and mould-resistant as well as Teflon-treated, it's ideal for use around pools and spas. And it's ideal for entertaining areas and family areas where it will get a lot of use.
No Chintz stocks a wide array of fabrics, textiles and soft-furnishing products. Materials are sourced from leading Australian and overseas suppliers and products are made to the highest standard in the No Chintz workshop.