A well appointed professionally designed outdoor room now is now considered essential.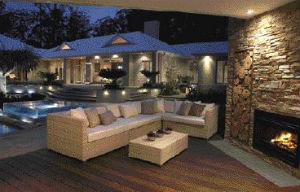 During the past decade, the concept of the outdoor room has gone from what some considered "just a trend" to what is now regarded as a critical component of every new home design. At the forefront of this radical change in thinking is landscape designer Dean Herald from Rolling Stone Landscapes whose luxury designs have shown homeowners, designers and builders how these expanded living spaces can enhance our lives — and the value of our properties.
In essence, an outdoor room is a space that can be used and enjoyed much as any indoor living area. It's a defined space where you can relax or entertain in comfort while feeling connected to your outdoor surroundings, and it has become an essential element in both contemporary home and landscape design.
Entertaining and socialising out of doors is now the cultural norm and a well-appointed outdoor room is considered essential to enjoying the complete alfresco experience. Good design is the key and the same fundamental principles apply whether you're planning to entertain four or 40 people.
The most important point to keep in mind is that an outdoor room is a space specifically designed to be lived in. It doesn't matter if your needs are simple (perhaps a place where you can lounge by the pool with a few drinks) or extensive (such as somewhere you can cook a feast for large family gatherings), the goal is to create a space that accommodates your specific needs and makes your life easier.
Not surprisingly, complete outdoor kitchens that offer all the convenience, functionality and creature comforts of an internal kitchen are now a priority for many. The appeal is clear: ease of use and no running in and out of the house to fetch this or grab that. Everything is at your fingertips — fridge, sink, storage and cooking facilities, be it a barbecue, pizza oven or both.
When designing an outdoor room, you need to give as much consideration to its use, orientation and decoration as you would an internal living room. From the layout to the choice of materials and furnishings, every element needs to be considered with care — and this includes keeping issues such as durability and comfort in mind.
Dean Herald's beautifully detailed and well-defined outdoor room designs represent the ultimate in comfort. Whether a sunken lounge area with a wood-burning fireplace and a wall-mounted plasma television or a poolside dining pavilion with its own sound system, the end result is a practical yet luxurious space designed to be enjoyed.
Dean's ability to integrate indoor and outdoor spaces through the use of water as a connecting design element, sympathetic selection of plant material and the use of lighting, are just some of the reasons for his great success. Innovative thinking and an ability to tailor a design to meet the individual needs of each new project are two others.
In recent years, Dean has gained worldwide recognition for his designs. In 2006, he won a gold medal at London's Chelsea Flower Show. The following year he received a gold medal for his display garden at the Melbourne International Flower & Garden Show.
Dean's first book, Resort Style Living, has also garnered much attention and many accolades. The book is a showcase of his designs, ranging from intimate courtyard scapes and relaxing retreats to elaborate outdoor dining, entertainment and games areas. Resort Style Living is available at good book stores or can be purchased online at the Rolling Stone Landscapes website.
Photography Danny Kildare  
Rolling Stone Landscapes
PO Box 3341
Dural NSW 2158
Tel: (02) 9651 5002
Fax: (02) 9651 5004
Mobile: 0404 866 799
Email: dean@rollingstonelandscapes.com
Website: www.rollingstonelandscapes.com