A resort-inspired tropical-style alfresco haven that meets every lifestyle need
Who said you couldn't have it all? This garden has a Bali hut, a swimming pool, an alfresco entertaining area and a water feature — it even has a putting green.
Designed by Tony and Kelly Cousins from CPM Landscaping in close consultation with the owners, the designing duo has created a lush tropical resort-style outdoor haven that is as easy to maintain as it is to use.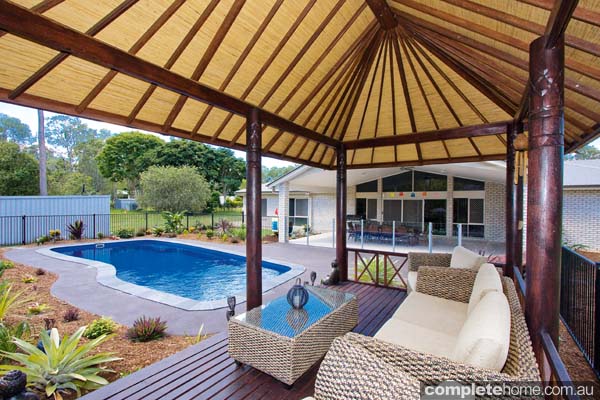 A peaceful and tranquil space, this garden boasts a plethora of interesting foliage plants in a mix of colours. You will find cordylines, crotons, gingers, clumping bamboo, bromeliads, nandina, ixora, fountain grass, hibiscus and variegated jasmine.
"As the owners requested unobstructed views from the putting green to the pool and from the pool to the lower dam, the taller growing plants were installed in the corners of the pool area and in front of the pillars in the alfresco entertaining area," explains Kelly. "The lower growing plants were placed along the front of the putting green and along the fence leading to the dam view."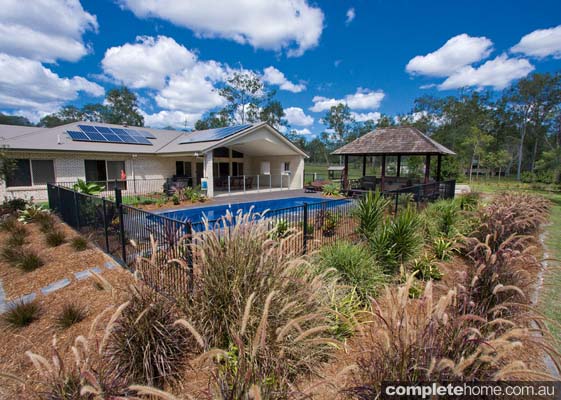 Taking pride of place in the garden bed that separates the entertaining space from the putting green is a Buddha water feature. The statue had been bought by the owners some time before and CPM Landscaping cleverly modified it to create a soothing water feature with submersible, colour-changing lighting.
For the hard landscaping around the pool, CPM Landscaping used natural cut limestone coping pavers and charcoal-covered Covercrete (a decorative sealant material) was applied to the plain concrete pool surrounds, creating a sophisticated seamless effect.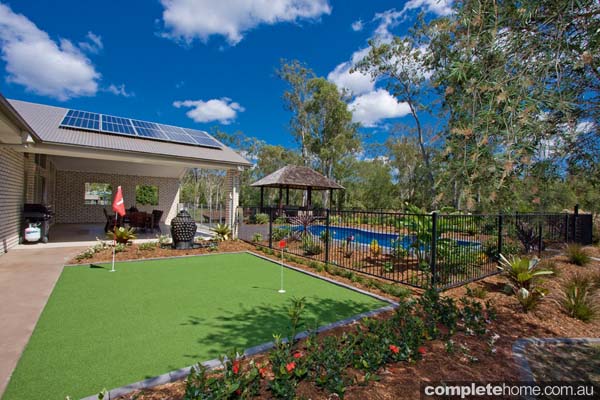 The pool fencing is a combination of two types. For the area between the house and the pool, CPM Landscaping used glass; the remainder of the pool area, which includes the elevated thatch-roofed Bali hut, is enclosed by black powder-coated aluminium fencing.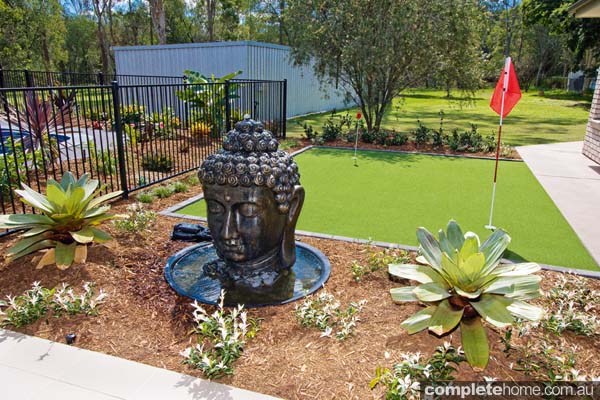 For this project, as in all projects undertaken by CPM Landscaping, Tony designed the structural components, including drainage, and Kelly designed the planting layouts and supervised the installation. The calibre of their work is first class, as evidenced in their win in the 2013 Landscape Queensland Awards, in which CPM Landscaping won the Residential Project up to $40,000 category.
Project details
Landscape design and construction by CPM Landscaping PO Box 692, Jimboomba Qld 4280
Phone (07) 5548 6875
Mobile 0421 274 637
Email cpmlandscaping@optusnet.com.au
Website cpmlandscaping.com.au
Photography by Glenn Weiss
Originally from Outdoor Design & Living magazine, Volume 29