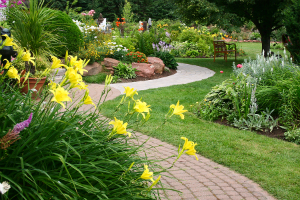 An urban courtyard designed to offer the ultimate indoor-outdoor connection
Story: Karen Booth
This renovated, heritage-protected Victorian terrace house in Sydney's eastern suburbs conceals a delightful secret: a private courtyard that links the open-plan living room at the rear of the residence with a multi-storey annexe housing a garage, painter's studio and wine cellar.
Ensuring a smooth transition between internal and external spaces, the blackbutt floor of the living area is at the same level as the terracotta paving in the courtyard. To prevent water invading the house, a stainless-steel drainage trench was laid just outside the exterior line of the frosted glass bifold doors to collect run-off.
Reinforcing the European styling of the courtyard, terracotta pots, collected by the homeowners during a trip to Italy, adorn the space. One was converted into a water feature, which was placed in a rectangular, formal-looking pond located in front of the annexe.
Adding a contemporary twist, the paved area is "broken up" by two pebble-filled strips.
To screen out the view of the neighbour's elevated pool on one side, the rendered and painted boundary wall was extended upwards with the addition of a screen of red cedar. This contributes additional colour to the courtyard and picks up on the colour of the internal flooring.
The project, designed by architect Thomson Rossi and constructed by Acclaim Construction and Project Management, has clearly achieved its stated goal, which was to create an easy flow — and strong connection — between indoor and outdoor spaces.
The result is a tranquil and intimate courtyard that seamlessly links the two buildings and functions as an extension of the contemporary living area.