We ask some of our favourite kitchen and bathroom experts what the new trends are and how to go about creating a look that's right for not only your home, but for your lifestyle as well.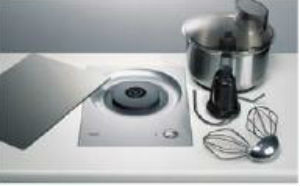 Like so many things these days, it's so hard to choose what's right for your kitchen or bathroom. A million colours, textures, designs and materials make it a minefield.
"Will this lime green tile match my cherry red floor?" (Probably not unless you're going for a toffee apple theme)
"Will this saucepan withstand cooking my super hot chillies from Mexico?" (Yes, unless they are made of some sort of corrosive acid, in which case you probably shouldn't be eating them)
"Will I be able to blast away five-day-old crusted pasta bake with this tap?" (We won't even go into how wrong that one is!)
Tiles
Sophie Chea from Fashion Tiles tells us how to choose practical tiles while still having fun.
"We can all agree that when building or renovating, the prospect of having to make decisions can seem a little daunting; my best advice is to be prepared by doing your homework. There are three main points to consider — style/look, finish and colour. Decide on the style/look that you wish to achieve in you kitchen or bathroom; there are many styles out there: traditional or contemporary, sleek and polished hotel style or an earthy day spa feel. 
Home renovating magazines are a great source for inspirational ideas to help you find examples of what you like or don't like. Once you have decided on your look, you now have a concept as a basis for all other decisions. 
What is your preferred finish? Matte or gloss? It's really a matter of personal preference. Generally speaking, most glazed tiles are low maintenance and are easily kept clean, however the mirror-like gloss found in polished porcelain requires more attention, as dust and marks are easily seen and due to its porous nature, require sealing prior to use. There is one thing that both matte and gloss tiles have in common — grout. It is the grout that is hard to keep clean; I highly recommend taking the time to use a grout sealer.
Develop a colour scheme. Richness in darker hues provides a strong statement and can offer a feeling of warmth and intimacy. Lighter colours can give the illusion of space, offering brightness and a sense of cleanliness. Neutrals are great; you can then dress the room with furnishings to add a splash of colour.
It is a good idea to choose colours for your benchtops, cupboards and walls (collect samples) prior to selecting tiles, as you can use them as your colour scheme. Tile colour can then be used to complement or bring out colours you have already chosen. Try incorporating vibrant colours through glass features or borders or, for an earthy look, pebbles or stone are perfect.
At the end of the day, it's all about you and what you want. Don't limit yourself by being too cautious — have fun and enjoy the product at hand."
Tapware
You've probably found that choosing tapware is a lot more complex than pointing at something that looks good and digging out your credit card. Debbie Davidson from leading tapware brand, Accent, enlightens us on how to choose the best tap for you.

"When choosing tapware for your new or renovated bathroom you need to decide firstly what 'look' you are after: traditional, modern or something in between. Style is an individual choice and with Accent's many different tapware ranges encompassing traditional, classic and the latest minimalist looks from Europe, you have that freedom of expression.
The second stage depends on whether you are building a new bathroom or retro-fitting to existing in wall fittings. When using existing in wall bodies, tapware such as Accent's Cool, Appeal and Richmond use your existing in-wall plumbing. However, some tapware such as Accent's Q2 range is manufactured with in-wall bodies provided so that when the visual parts are installed, the taps line up perfectly straight. You may decide on mixers rather than three-piece (hot and cold tap with spout) tapware. The plumbing for these is also very different, so it's important to take this into consideration.
Budget is always an important to think about. Will you be in the house or apartment for a short or long amount of time? Retro-fitting new visual parts to existing in-wall fittings is a more economical option than starting again.
Warranty and after-sales service are vital considerations when choosing tapware. Accent International is a long established brand with a parts and labour warranty and easy access to service and spare parts for your tapware. Make sure there is a warranty such as this as you don't want to get stuck having to invest in a whole new fit-out when you only needed a small part."
Cookware
David Gilmore, general manager of quality cooking appliance brand Emilia Glem gave us the lowdown on the trends.
"It is part of an ongoing trend in Australia to build larger houses than ever before, with the number of bathrooms in each house and apartment at its highest than at any point in the history of housing in this country. The size and value of the kitchen in our homes, whether it's a new home or a renovation is increasing (except for apartments where the kitchen area is shrinking) as its importance as a family and social space also grows.
The recent increase in interest rates has also switched the focus of some homeowners to renovating rather than upgrading their home through purchasing.
The increasing focus on presentation for both social and property resale reasons are driving home owners to buy prestige brands. As a manufacturer of high-quality Italian kitchen appliances, the challenge for Emilia Glem is to convince this segment of the market to invest in quality, design-driven.
The demand for stainless-steel Italian cooking appliances remains high and large format cookers and built-in ovens continue to be strong growth areas.
Starting to emerge as a trend is the demand for products with green credentials. For example, we see this through the popularity of our gas cookers and ovens.
Today's environmentally-aware consumer is increasingly choosing household appliances for their low carbon footprint. The average Australian home produces about half a tonne of greenhouse gas each year from energy used for cooking."
What are the pros/cons for choosing gas and electric?
The push for lower greenhouse gas emissions makes gas ovens a much better option. However, some consumers are reluctant to give away their electric oven and the Glem Energyselect ovens with both gas and electricity give them the best of both worlds.
SHOPPING DETAILS
? Accent Tapware
Tel: 02 9882 2633
Website: www.accenttapware.com.au
? Glem
Tel: 02 9721 2755
Website: www.emiliaglem.com.au
? Fashion Tiles
Tel: 03 9699 1566
Website: www.fashiontiles.com.au