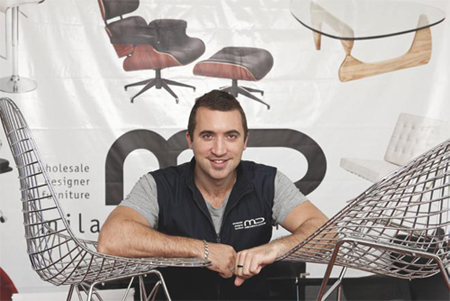 When did you start the business?
I formed Milan Direct in 2006 after travelling through Europe several years ago and noticed a growing trend of designer furniture, especially the modern classics.
I have always had a huge passion for classic designer furniture, as I come from a Melbourne furniture family, stemming four generations. I have always been immersed in the industry, having worked for various furniture companies from a very young age, including logistics co-ordinator for the Official Furniture Supplier of the 2006 Commonwealth Games and major projects such as McDonald's, KFC and Melbourne Cricket Ground fit-outs.
Like a lot of people, I've always loved the designer furniture classics, but before Milan Direct was formed, most items in the marketplace were too expensive. I soon realised that many people shared my passion for design, but also did not have the cash to buy overpriced reproductions.
And so Milan Direct was formed, whereby we developed an online, direct-to-the-customer furniture sales model, which allows us to pass on significant savings to our customers.
My business partner Ruslan Kogan and I are the two directors of Milan Direct and oversee the day-to-day operations of the business, managing our excellent team of staff, warehouses in Melbourne, Sydney and Auckland, product research, development and ensuring that all customers are 100 per cent satisfied with their Milan Direct experience.
How has the way furniture is being designed today changed from a few years ago?
Educated consumers are turning online to take advantage of the exceptional value found online through more efficient business models. The advantages of shopping online are lower prices and greater efficiency, with online stores open 24/7. This has affected the way furniture is being designed today, as products are designed to be predominately flat-packed to ensure cheap and fast shipping.
Further, more emphasis is being placed on including ergonomical features (such as lumbar support in office chairs), as the end-user is increasingly spending more time at the desk than in years gone by.
How has the economy played a part on the way furniture is being made and received?
Given these tougher economic conditions, people have less money to spend and are therefore searching for best-value providers. So consumers are turning online, whereby greater value can be found through leaner business models with lower overheads.
Customers are favouring online shipping because within a few minutes can conduct a search and find every company in the country selling the same items and compare prices, quality and company reputation. To gather this same information with traditional brick and mortar stores would take much longer (if not impossible) and the prices cannot compare.
Efficiency is also another factor, as customers these days are time poor. At Milan Direct, for example, a customer can make a purchase on our website at 7am, and take delivery by 11am same day — you just can't beat online.
In the current climate of rent spike and increased mortgage stress, Milan Direct makes it possible for first-home buyers, families with young kids and empty nesters to furnish their homes on a budget … without compromising on style.
Do you think there is a huge push for eco-friendly furniture?
We are not noticing so much a huge push for eco-friendly furniture, but more so towards best value furniture. Our challenge at Milan Direct is to always bring to market the best-quality products at the lowest possible price.
Describe your favourite furniture piece.
My all-time favourite Milan Direct product is our famous Ball Chair, originally designed by Eero Aarnio in 1966 by using one of the simplest geometric forms — the ball. To me the Ball Chair epitomises the true essence of modern classic furniture — a true classic which has stood the test of time, as popular today as it was in the past century.
What coming trends do you see for the industry?
Web 2.0 is all about customer interactivity and participation in the online shopping experience. New product development of furniture pieces will be heavily dictated by what the customer wants, and this research will be conducted by the customers themselves through online blogs, customer reviews and through social media sites. If a furniture company wants to know which product it should manufacture next, there is no better way to know than to simply ask their customers! At Milan Direct we have used such tools as blogs, customer reviews and a Facebook page to generate such discussion and gain such valuable insights.
For more information on Milan Direct, visit www.milandirect.com.au.