Like architects Atelierworkshop's trademark, this house in the south of New Zealand's North Island is a marriage of the sustainable with the sculptural, the functional with the inspirational.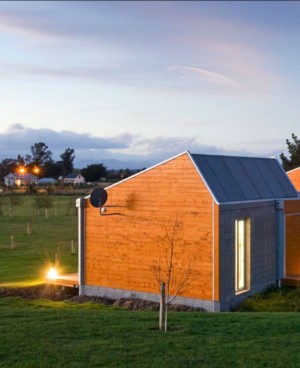 It's the north-westerly lean of all the trees in the countryside around Martinborough in New Zealand's Wairarapa region that gives you a clue to the prevailing climate. It's windy, particularly in spring, when the pinot noir grapes for which the region is famous are just starting to form. Hot, dry summers, with temperatures frequently in the mid-30s, aid the ripening process and, while winters are mild, frosts are not uncommon.
So when Wellington-based architects William Giesen and Cecile Bonnifait of Atelierworkshop came to design a house for treechangers Ted Preston and Anne Cornege, they took their cue from this climate and the landscape, which is essentially a plain surrounded by rugged mountains. Ted and Anne also wanted to run their house as a weekend B&B, so a separate guest section was elemental to the brief. Cecile describes the one-hectare subdivision block as "a prairie", so the architects had to devise a house that would sit comfortably in the landscape, make a statement within it at the same time as cope with its climatic extremes.
In collaboration with their clients, they began by angling the house on the site for good passive solar gain and to respond to its contours. Then more than 200 trees were planted to create a grid to which the house could respond. "It was essential to protect the house from both sun and wind," Cecile explains. "We chose birch because it is deciduous and lets the sun in when you want it in winter, as well as some native totaras, which are more robust and provide good shade and wind screening. At the same time, we wanted to leave some of the landscape in its natural state, so there are patches of grass with field flowers between the many trees we have introduced." The architects then angled the long, narrow house against this grid so the long facade faced northwest for ultimate exposure to winter afternoon sun. Conceiving a sculptural six-metre by 40-metre form, Cecile and William used concrete flooring and a solid concrete wall running lengthways between the living area and guest section as a heat sink for absorbing that all-important sun.
In case the thermal mass performed too efficiently, they then installed a wall of glass louvres, which serves the dual purpose of the letting the sun in when required and ventilating the building when it gets too hot. Copious skylights bring in natural light and introduce further sun and ventilation. "One of the advantages of a long, narrow building is it can easily be cooled by cross ventilation," William says. "In fact, the risk of overheating is greater than being too cold. We did, however, install zoned underfloor heating (electric because the cost of hydronic was prohibitive) for those periods in winter when there's no sun for several days in a row. Ted and Anne only turn the heating on in the guest wing when it's occupied and they find the rest of the house performs so well that they end up needing artificial heating for only five to 10 days each year."
Initially, the clients hoped to utilise all that wind by installing wind generators, but a combination of primitive technology, cost and noise deferred that decision. They did, however, go with solar hot water and large water tanks capturing the roof water. And the house has the infrastructure to install photovoltaics and wind turbines when finances and technology permit. All that concrete and glass could have created an echo chamber, so the designers opted for sustainably harvested macrocarpa external cladding and eco-friendly Italian poplar lining the interior. "It provides visual warmth inside and also absorbs sound," William explains. Connection with the landscape was further enhanced by a series of insertions, or courtyards. These are matched by timber boxes extruding on the opposite wall, which create the main entry, guest wing entry and office nook. Ted Preston admits that when he and Anne first saw the design they were not impressed. "William and Cecile had spent a lot of time talking to us about our lifestyle and our needs," he says. "We're not eco-warriors, but good passive solar design just made sense in this climate. However, when they showed us this long, skinny house, our initial response was 'no way'. But when they talked us through, it was clear that the design addressed all our needs. The fact that we live here in summer with no mechanical airconditioning or fans says it all. The cross ventilation works brilliantly. The combination of louvres and sliding doors means we can tune the house to keep it cool night and day."
The long, heat-absorbing concrete corridor wall is similarly effective. "If we go away for the weekend in winter, when we come home the house is quite pleasant to walk into," Ted adds. "Of course, when it gets really cold, we have to run the underfloor heating, but not as much as we would without that heat sink." Anne and Ted are also particularly fond of an outdoor entertaining deck area that opens off the kitchen. They open a large sliding door to create an indoor/outdoor space that turns into "party central" when they have guests. Protected by a slatted macrocarpa wall, the owners can put up umbrellas secure in the knowledge that they won't be buffeted even on a windy day. "The deck is calm and protected, even in an otherwise windy world," Ted says. Wind generators and photovoltaics are still very much on the agenda. "Again, they just seem the sensible option," Ted adds. "When finances and technology permit, we'll reinvestigate. Our story, as they say, is to be continued."