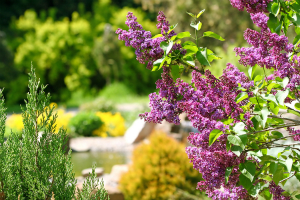 For a family day out or a visual feast of flowers and foliage, venture to the Hunter Valley Gardens
It doesn't really matter if your home garden is big or small, time spent browsing around public gardens can be a great source of planting ideas and design inspiration. Go mid-week when you can avoid the crowds and it will be a replenishing experience, too.
The Hunter Valley Gardens in Pokolbin, New South Wales, has much to offer – for both plant enthusiasts and those seeking a family day out. The major drawcard is the themed display gardens which reveal themselves, one after the other, as you leisurely stroll along the network of walking paths.
To delight and engage the youngsters, there is the Children's Story Book Garden with its reenactment of the Mad Hatters Tea Party and whimsical plantings, while the Chinese Moongate always seems to stop adult visitors in their tracks. For those with a real passion for plants and garden design, there is the renowned Rose Garden, the Oriental Garden, complete with streams, water features and the most incredible display of Zoysia grass, a parterre garden (which is known as the Border Garden), the exotic, colourful Indian Mosaic Tea Garden, and more.
Throughout there are fine examples of topiary and plenty of places where you can stop, rest and enjoy the views. One of the most tranquil spots is the Sunken Garden.
You can wonder around on your own or join a guided tour. You can also attend one of the daily talks or any of a number of events that are held throughout the year. Highlights of the annual calendar are the Festival of Flowers and the Rose Spectacular; both are month-long events and are held each in spring, one usually a couple of weeks after the other. The Hunter Valley Gardens has an international reputation for its roses (more than 156 varieties at last count) and the Rose Spectacular is always a popular event with rose aficionados clamoring to savour the site of 35,000 rose bushes in bloom and to hear the daily talks by horticultural experts.
As the grounds are so extensive, most people tend to spend a day, or at least the better part of a day. To sustain visitors there are several places to eat or have a drink and, of course, to buy homewares, gifts and the like. Of course you can take a picnic lunch and continue to enjoy the great outdoors, if you like.
One of the reasons for the gardens' ongoing success, and ever increasing list of tourism awards, is the intensive planting which ensures the grounds always look lush. It doesn't matter what the season, thanks to good design and a well considered planting approach, there is always something to engage and satisfy the eye.
Hunter Valley Gardens are open every day of the year, except Christmas Day, from 9am to 5pm. The cost is $19.50 for adults, $15.50 for seniors and $12 for children (six to 12). For more information, visit: www.hvg.com.au