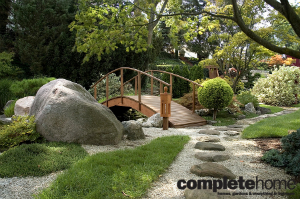 This Perth garden may be of modest size but it has everything a family could need
Story: Karen Booth
Photos: Ron Tan
Following a major renovation that turned a quaint weatherboard beach house into a modern family home, it was time to focus on the bland backyard. The new living rooms of the house now looked out onto the courtyard-style space and the view was less than appealing.
By carving the space into three distinct yet connected zones and employing a design that is simple yet inventive, Ritz Exterior Design was able to deliver just what the family wanted — an inviting backyard that caters for the needs of parents and children and provides a pleasing view when looking out from inside the house.
The static feature is the focal point of the new design, an element often employed by Ritz Exterior Design when a water feature is either unwanted or not recommended.
"We use static features like this when we just want to allude to water and it can be just as effective as a water feature, especially when combined with lighting. This feature is aligned with the centre hall of the house so you can see it right from the front door," says designer Guy Mouritz.
The feature, which sits at the head of the batu timber-decked dining area, is rendered with a polished plaster, also referred to as a dado finish. The taller panel is painted to match the colour of the main feature wall inside the home.
To one side of the decking is a paved area with a barbecue; to the other, directly outside the playroom, a patch of lawn. On the kids' side of the garden, the Urbanstone saltbush bush-hammered pavers used for the barbecue area were laid in a stepping stone pattern and surrounded by pebble tiles to create a fun hopping path.
Strips of pebble tile were incorporated into the static feature to link the two areas.
"Benches were built in to create some additional space and a barbecue cutting board bench mounted onto the wall of the store room. This eliminates the need for chairs in the barbecue area and adds functionality to the barbecue for serving and cutting up food," adds Guy.
Throughout the planting is both striking and hardy. "A spineless yucca was used to bring some colour and form into the barbecue area as well as dealing effectively with a difficult corner," says Guy.
"Under the grass tree in front of the static feature we used a combination of grasses, mainly carex and festucas. Against the wall in the grassed area we used pittosporum against the wall, which has now grown to prevent the sun from heating up the brickwork."
For night-time enjoyment, there are lights running through the deck and into the garden.