This home by Builtex Design & Construction lends itself to a luxurious lifestyle.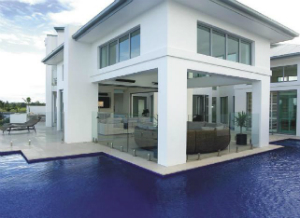 This gorgeous home in the new waterfront location of the Calypso Bay development on Queensland's Gold Coast is luxury living at its finest. With water lapping up against the bank metres from the door and a private jetty with direct access to The Broadwater and Moreton Bay allowing easy access to your yacht and water sports, the house provides every trimming imaginable.
The island itself is like a tropical hideaway, with walking paths, a golf course and a 24-hour guard house for absolute safety. With all these amenities set in such a spectacular location, this is not just a home but a lifestyle.
Builtex Design & Construction was approached to design the canal-front home for an odd-shaped block with very little frontage. The block allows water views from every room in the home, with water features adding to the tropical feel.
The home has a very contemporary design with high ceilings and voids, and five pavilions making up the structure. Glass was utilised for much of the space, allowing the sun to filter in and passive solar-energyefficient principles to heat the whole home. This also adds to the aesthetic appearance of the home; a warm glow streams from the home at night and during the day views are enjoyed from every room.
In fact, Builtex Design & Construction takes environmental considerations very seriously in every home it builds. The company follows strict criteria to ensure it is as sustainable as it can be, including thermal performance for insulation — making sure the need for airconditioning and heating is minimised. Sound transmission, strength and durability in walls are also looked after. Another thing Builtex Design & Construction is particularly interested in is creating a better breathing environment with closed-cell construction, meaning there is no place for moisture to travel within the walls and resulting in improved air quality. Of course, all these things have been applied to this home.
A large living room is the home's central focus, with a gas fireplace and open access to the dining room and kitchen. The master bedroom boasts a huge walk-in wardrobe for maximum couture storage and bathrooms are spacious, with double vanities and spas.
The outdoor areas were carefully integrated, with large bi-fold doors opening up to many areas throughout the home. The pool and spa area is also positioned to be enjoyed, with frameless glass minimising obstruction. Sandstone tiling is used throughout the kitchen, with CaesarStone benchtops, a glass splashback and top-of-the-range appliances integrated for a modern look. Victorian ash with stainless-steel rods also complements this theme and has been used for the stairs. A C-Bus system controls many elements in the home including audio-visual technologies, lighting and even blinds.
This home is more than just a place to stay; with its incredible location, it also provides a lifestyle. Builtex Design & Construction has created a space where a life of total luxury can be thoroughly enjoyed.
Photography by Clive Buxton 
Builtex Design & Construction
PO Box 2067, Milton Qld 4064 
Tel: 07 3719 5444 
Fax: 07 3719 5244 
Email: builtex@bigpond.net.au 
Website: www.builtexhomes.com