A home that encapsulates the beauty of land and the tranquillity of water.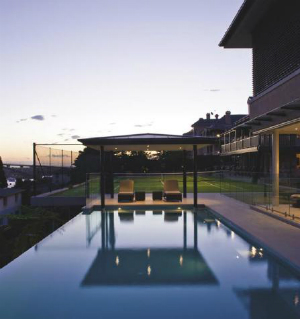 Nestled in the beautiful region of Hunters Hill, this home has amalgamated two separate sites with stunning results. The new design encompasses the soothing elements of earth and water, with superb views of the Parramatta River and over to the bustling city. Generous garden terraces provide a place to escape to and appreciate this luxurious home.
With clever integration, the outdoor areas expand from the indoor living spaces while being sensitive to the original house character. The slope of the site allowed for the implementation of a second-level garden space where soaring views of the home's spectacular surroundings can be seen. The outdoor garden, relaxation and entertainment areas combine in a fusion of old and new in this heritage house, where simple materials complement the traditional exterior. Beautiful sandstone floors provide a stunning natural finish while overhead motorised external timber louvres protect the occupants from sun exposure and provide necessary privacy.
The clients requested a home office and guest room that would be sympathetic to the main house yet still relate to the entertainment and recreation areas such as the pool and tennis courts. Carefully constructed a fair distance from the main house for maximum privacy, the secluded area of the home office and guest room's elegant and modern interior reflect the overall mood of the compound. The office, adorned in subtle, rich brushbox timber floors with identical brushbox veneered joinery, presents a sleek finish while the guest bedroom is a delight, offering guests all the home comforts. One of the major style features of this residence is the master ensuite, which appears in a gorgeous "glass box", with the floor, cast bath and vanity upstand made of Romano travertine stone. The full mirror wall reflects the glass mosaic tiles and carefully selected pendant lights add an extra touch of class — a striking display of innovative and opulent design.
The integration of the indoor and outdoor areas was essential for smooth movement between the spaces. From the upper garden areas to the tennis court, pool and entertainment spaces, the seamless transition is a reflection of the architectural team's genius. Majestic living spaces fit for summer-night soirées and cosy indoor dinner parties; the view, the décor, the layout — what a way to live.
Tanner Architects
52 Albion Street, Surry Hills NSW 2010 
Tel: 02 9281 4399 Fax: 02 9281 4337 
Email: info@tannerarchitects.com.au
Website: www.tannerarchitects.com.au