A lacklustre Sydney apartment gives way to the Darren Palmer revolution.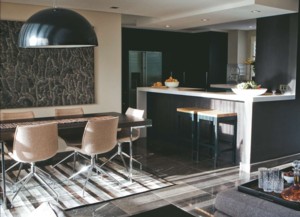 Before its generous revamp, this Potts Point home was simply uninspiring. The bland, white-on-white interior scheme did not mirror the exceptional urban vista of Sydney city, and the neighbouring St Mary's Cathedral. Its owner desired to bring some excitement to the apartment and create a haven for entertaining and relaxing. Darren Palmer of Darren Palmer Interiors stepped onto the scene to overhaul the three-bedroom, two-bathroom residence into a sophisticated, masculine sanctuary. The reconfiguration by architect Thomas Spanengberg, transformed the accommodation into a two-bedroom, two-bathroom home, equipped with a separate kitchen and a perfectly positioned living space that now takes full advantage of the panoramic beauty.
A mature, yet warm look was the aim of the project and Darren drew inspiration from nature's palette and textures to create a delicate balance between classy and earthy. A colour scheme of charcoal, sand, bronze and white was implemented, accompanied by an array of layered natural textures. Layering was a key technique adopted throughout the entire design, and one that worked harmoniously with the unique range of shades and tones. The apartment's drapes are the epitome of layered design with a mix of sheer and opaque controlling the level of ambience. Soft bronze curtains sweep across the sliding doors that lead from the quaint terrace balcony into the living room. The soft hues of the sheer fabric invite natural light into the space, brightening up the unique design aesthetic, especially the intricate work of art by Lily Kelly Napangardi. This original piece acts as a bold focal point contrasting its creamy, neutral backdrop.
The bedrooms of the city loft uphold signature Darren Palmer touches. A Becker Minty skull with horns stands in front of the mirror for an appealing look that marries western rustic with modern edge. The Orson & Blake horse-head sculpture also contributes to the hint of western décor. The cosy hub of the house was designed by Caroline Haeusler of Interiors in Focus. This 'bachelor-esque' kitchen incorporates New Age Veneer cabinetry in a suave Sable Oak finish. A stainless-steel splashback provides a strong, manly essence to the space and the Organic White CaesarStone benchtop complements the oak surrounds.
Every surface, from the floors to the kitchen bench, was gifted a makeover. Sleek and seamless Pietra Grey marble flooring adorns the contemporary home; the severe marble is softened by natural sisal selected to line the bedrooms. Although the organic sisal offers a lustrous touch, the natural twine fibres lay great claim to durability and sturdiness. Darren reflects on the success of the project, "The whole project really has a jaw-dropping element to it; room after room offers special finishes and little surprises that reveal themselves upon closer inspection." From the eyecatching pendant lighting to the soft lounge cushioning, there are myriad details and finishes to indulge the eye. "The end result is a soft, inviting and homely space that is sensible, elegant and most of all, masculine."