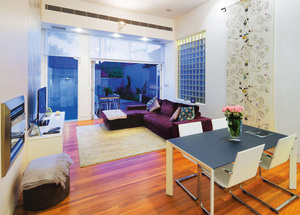 Exceptional is just one word that can describe the transformation this home has undergone. Wanting to open up the pokey, dark and multi-room Federation-style home, the owner asked Roshills Constructions to build them their light, spacious dream home.
Designed by architect Jeff Hokin and built by Roshills Constructions, the new home cleverly disguises yet accommodates the new design beyond the existing front rooms and hallway. The back half of the home was entirely rebuilt, with a stunning open-plan room at the rear. It comes as a nice surprise to walk down the original hallway and into a room that is large, open and light, with very high ceilings and modern clean lines. Here the kitchen, laundry and large living area flow towards large bi-fold doors. These open up onto stylish timber decking and a small garden. A refreshing plunge pool was included for warmer months, which doubles as a remarkable water feature when not in use. A brushbox timber staircase, designed to complement the floorboards, winds its way up to the upper and lower levels. New bedrooms, bathrooms, ensuite and study also mean this home is now perfectly sized.
A lot of thought and planning went into each space of the final design to accommodate and accentuate how the owners live from day to day. Every minute detail of the home was designed for a specific purpose. Even the multiple nooks and crannies that occurred as a result of building restrictions and the home's close proximity to the neighbouring property were transformed into hidden storage along the walls. The overall design maximises space and natural light. The rear of the house is filled with natural light all year round, aided by the integration of large glass-block windows and glass bi-folds. A skylight takes prime position, flooding the stairwell and upper hallway with light. Upstairs in the master bedroom, an ensuite and balcony ensure it is a definite retreat. The tiled balcony brings fresh air into the room and with a cosy outdoor lounge it is another place to relax. According to the owner of the property, the new home functions exactly as it was planned to. Every space works for the purpose it was designed and facilitates comfortable living. Roshills Constructions' professional expertise ensured the house met all the council height and development restrictions. The result: a Federation semi that maintains its traditional look and feel from the front façade while accommodating a contemporary, light and open home interior.