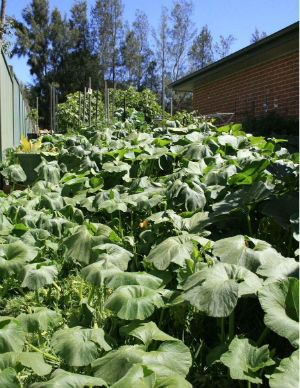 Mate and Neda Dzaja are from the small Croatian village of Imotski, which is near the borders of Dalmatia, Herzegovina and Bosnia. The mediaeval village has two stunning lakes that are unparalleled in terms of their origin, colour, form and magnitude. They are known as the Blue Lake and the Red Lake. Their rural homeland of Imotski offered a rich background for healthy living. Wheaten flour is produced in the area for baking bread under the hot iron pan. Scattered throughout the flat, fertile landscape are old stonewashed houses, bordered by fig trees and vineyards.
Mate and Neda lived in this rural idyll until 1975. They had a kitchen garden and freerange livestock. They grew many varieties of vegetables, including, potatoes, carrots, beans and corn, which they cultivated without the use of chemical fertilisers. Farmers breed cattle, sheep, chickens, pigs and goats in the area. Today, Mate, Neda and their family — Mariana, Ivana, Jozo, Keti, Nada and Ivan — continue to grow their own produce on their one-acre property in Regentville, New South Wales, without the use of synthetic pesticides or other chemicals. They have established a large kitchen garden very similar to the one they had in Croatia. Their soil is enriched with cow manure, compost and top soil. They spread a square metre of lime on the ground when they first established the garden six years ago. Mate applies organic compost to his soils and tops them up with cow manure every three or four years. The top soil is soft and pliable and rich in nutrients. About half a metre below the surface is darkchocolate- coloured clay.
Kitchen waste such fruit peels, vegetable scraps, coffee grounds, used teabags, weeds, eggshells, newspapers and a sprinkling of water is combined to make the compost, which takes almost 15 days to develop. Turning the mound with a shovel speeds the natural breakdown. The compost becomes humus, which Mate shovels into the soil to restore the natural balance. Added animal manure provides micro-organisms and increases the nitrogen content. However, too much nitrogen can over-stimulate vegetable growth and result in less fruit production. Neda and Mate planted three varieties of pumpkin from seed and it all grew out of control. Not all seeds can be germinated right after harvesting. Some require dormancy or a period of cold (but must not be allowed to dry out completely). Neda collects pumpkins seeds and allows them to dry on tissue paper or newspaper then stores them in a labelled jar. She sows the seeds in spring to mid-summer.
Lush, green pumpkin tendrils thrive in the warm part of their garden bed, providing perfect pumpkins, which are ready to be harvested when the stems wither. When detaching a pumpkin from its stem, always leave about 7cm of stem. Breaking the stem will invite rot organisms. If this happens, cook the pumpkin as soon as you can. Picked correctly, pumpkin will keep for about four months if stored properly at an ideal temperature. Corn and pumpkin grown together can enhance the growth of both and promote plant virility. Having to feed a family of eight, Neda had to think of a variety of ways with pumpkin. She prepares a number of mouthwatering dishes, such as velvety-smooth pumpkin soup, melted cheese on hot crusty pumpkin, creamy mashed pumpkin and roasted pumpkin. She saves money on food shopping and the entire family enjoy being involved in preparing meals, which saves time.
Mate and Neda's family also assist with pruning, mowing, digging and maintaining the fruit trees, vegetable garden and animal husbandry. And, with 50 fruit trees, they need the help. These include fig, orange, lemon, plum, walnut, almond, mandarin, locust bean, olive, kiwifruit, macadamia and mulberry trees, all aged between four and six years and producing abundant fruit throughout the seasons. There are also grapevines and pomegranates, which are covered in ratproof mesh and then covered again with netting to prevent birds, mice and snakes lunching on the produce. The family's two dogs and two cats play an important role, too, in keeping pests off the property. Last season, Neda harvested 40 kilos of grapes and had to offer surplus mandarins and figs to friends. Once, Mate spent $39 on a walnut tree that had a fungal disease. He prepared a simple solution of water, olive oil and dishwashing liquid and sprayed it on the leaves. The disease disappeared and never returned.
Paprika, zucchini, silverbeet, tomato, cucumber, radish and yellow-skinned carrots are just some of the vegetables grown in the healthy, unpolluted, organic conditions. Every family member harvests crisp vegetables daily. Freshly picked homegrown food like this provides higher levels of antioxidants, vitamins and minerals. Growing herbs, too, is easy for such accomplished gardeners. Below the kitchen window, rosemary, basil, bay, oregano and mint flourish without fuss. The soil is well-drained and the herbs have plenty of space. It's ideal to grow herbs close to the house like this so you don't have to run to the far end of the garden when you need to add flavour to something you are cooking. When Mate and Neda are not in the garden, they are often in the shed doing things like preparing cabbage for storage in barrels. A hole is drilled into the centre of the cabbage and filled with salt; the cabbage is then gently placed into a barrel of fresh water. The water is changed each month and the cabbage can be stored for up to a year.
The couple juice surplus oranges for breakfast and make juice from mixed vegetables and fruit in winter to ward off flus and colds. They also make their own sausages using pork and lamb. They put the sausages in the smoke room for extra flavour and longevity. Firewood for smoking meats and warming the house is not a problem. Sometimes, the local council drops off wood for free and friends offer chopped wood from their gardens.
Son Ivan operates the mower and removes weeds from under the fruit trees, but most days Neda hand-picks weeds to stop them from germinating. Some weeds are valuable for conditioning the soil, but Neda plucks them out and gives them to the chickens, together with a few worms and insects. She's well aware that nutgrass and Jerusalem artichoke, for example, should always be removed by the roots and never be left to be chopped up by a mover or hoe. Weeds of this sort will re-shoot from root remains and spread. If you see these weeds in your garden, do as Neda does — immediately pluck them by the roots and discard them.
Mate feeds his seven chickens regularly with pellets and bread soaked in water. He scatters grain, which keeps the chickens occupied and active for hours. A highprotein diet that includes worms, snails and insects, together with fresh lawn clippings and weeds, supplies their nutritional requirements. Chickens need their diets to be about 18 per cent protein and contain plenty of grit, such as sand, crushed shells and fine gravel, to produce strong egg shells. You should keep your chickens out of your kitchen garden and allow them to scratch the earth only after harvesting. Then they can peck for weed seeds, grubs and slugs and provide healthy eggs. Neda believes chickens are inexpensive to keep and they provide eggs and meat for the table. Located so close to the Blue Mountains, their young property is exposed to blustery winds during spring. Many fruit trees lose their flowers, which means no fruit. Cool temperatures can limit the worker bee population and reduce pollination, too, which is necessary to produce fruit or increase yield. Right now, there's nothing Mate and Neda can do to save the flowers on some of their fruit trees, but when funds permit, shadecloth, wind barriers or a hot house might insure against unpredictable weather patterns.
Water, too, is scarce and not easily obtainable on such a large plot of land, but canny Mate planned ahead and had a 35,000-litre underground water tank installed for house use. He also has a 5000-litre above-ground tank for the kitchen garden. Minimal energy is needed to pump the water and they save on water and electricity bills. Their rooftop sports a solar hot water system, helping to reduce their greenhouse gas emissions. Now that Mate and Neda are retired they can take the time to walk around their garden and choose something nice for dinner each day. Mate enjoys feeding the chickens and Neda collects flowers for the dining table. Her basket is always filled with herbs, eggs, silverbeet and fruit. It's a peaceful, healthy life, similar the one they lived in Imotski in Croatia, though in more modern surrounds, of course. They are living proof of the many benefits to growing your own food. They demonstrate how, with a little work each day and support from the entire family, anyone can maintain a pretty self-sufficient lifestyle.