The homeowners' brief was for a garden that would suit their family lifestyle.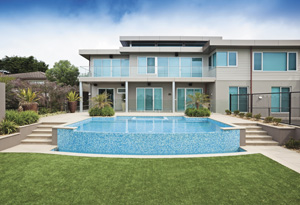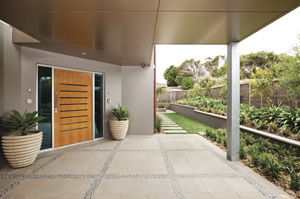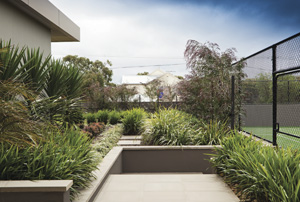 It had to be easy to care for, provide safe play spaces for the grandchildren, look amazing and be a pleasure to be in. Also at the top of the must-have list was a garden that complemented the house and the coastal location.
Thanks to Ocean Road Landscaping and the landscape designer, what the owners now have is a modern resort-style garden that makes creative use of the space to ensure maximum flexibility. Made for entertaining, the landscape also features a magnificent swimming pool complete with blue glass tiles and a wet edge which allows water to spill over to a small splash pool below.
Next to the pool sits a tennis court. Both are surrounded by lush but strongly organised plantings. Throughout the garden, drought-tolerant plants (including native shrubs, sedges and grasses) have been used, offering up a tapestry of different textures and colours. There are also several large feature palms used as focal points in various areas of the garden.
As the owners required an easy-care landscape, all the garden bed plants were chosen for their hardiness as well as appearance. While low-maintenance fine-leaf couch was used in the front garden, the side and back lawns consist of synthetic grass.
In summer, the front lawn and garden beds are irrigated with water supplied by an underground water tank located under the tennis court.
Extensive paving, graceful steps and landings surround the house and lead from one area to the other. Retaining walls are set at seat height, providing extra seating for guests when the family entertains.
Because there were so many level changes and access steps leading into each different area of the garden, great precision was called for when laying the paving. The same attention to detail was required for the paving around the pool. For their strength and colour, high-quality concrete pavers with bevelled edges were used. These were teamed with decorative pebbles for the path that leads from the carport to the home's front entry area.
Ocean Road Landscaping provides quality landscape design, construction, consultation and garden maintenance services. While the people here specialise in projects that complement the local environment and incorporate indigenous plants, with 15 years of experience in all areas of residential and commercial landscaping they have the experience and expertise to handle any project. The team at Ocean Road Landscaping, headed by Peter Shaw, prides itself on delivering high-quality work and exceeding client expectations.