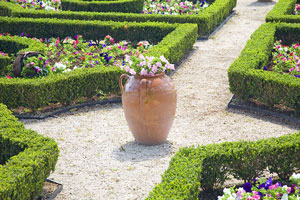 This Adelaide garden offers a modern interpretation of Victorian style 
Story: Karen Booth
Photos: Sarah Long
This new Victorian-style villa, set in the leafy Adelaide suburb of Spring Hill, cried out for a front garden that would enhance its grandeur and complement is period facade. But matters of style were not the only considerations facing designer Chad Hooper of Outdoor Style. Thanks to the slit-level construction of the house, the front garden had been left with several rather awkward changes in level.
The goal was to retain the site but without the end result being overbearing, so the decision was made to step the wall down to the driveway. This created interest while allowing the lovely detail of the house to still be viewed from the street, and from all directions.
To soften the look of the formal path and steps leading to the front door, curved wing walls were introduced, creating a grand yet welcoming entranceway.
Quantum Stone retaining blocks and bullnosing, chosen to coordinate with the sandstone house façade, were used for the walling. The paved areas feature Austral Victorian Blue with a tessellated border of Terrace Red and Cream to heighten the formal Victorian style. These clay pavers are durable and colourfast and the mottled appearance of the Victorian Blue helps to mask the occasional tyre mark on the sweeping driveway.
Repeat formal plantings were the order of the day with hedging of Euonymus 'Tom Thumb', upright rosemary (Rosmarinus officinalis 'Tuscan Blue') and Cupressus sempervirens stricta (a narrow, upright conifer) to screen the neighbouring property. The elegant weeping birch (Betula pendula 'Youngii' sits in front of the front feature window while a weeping cherry (Prunus serrulata 'Cheales') is the centrepiece of the top lawn area. Cone and ball topiaries of lilly pilly (Syzygium australe 'Southern') complete the planting.
This is an entry garden designed to be looked at rather than lived in, but that doesn't make it any less warm and welcoming. The confident mix of complementary colours, the expert and largely unobtrusive retaining wall (built by Top Cat Landscaping Services, as was the rest of the garden) and the well-considered planting palette have resulted in a garden and home that are a perfect match.