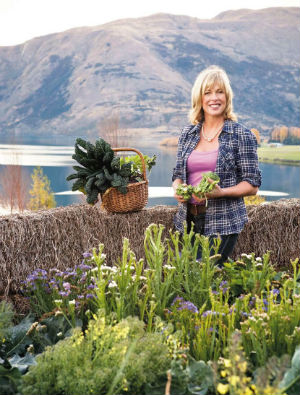 In conversation with celebrity chef Annabel Langbein
They say you go back to your roots as you age; to yearn for those wonderful childhood years of enjoying the simple life when it was normal for families to eat at home, setting the table each night to sit down to fresh simply cooked produce, much of it straight from the garden. Like many New Zealanders, Annabel Langbein's roots are deep in the earth, in a satisfying cycle of growing, harvesting, cooking and sharing at the table. Each day after work, her father Fred would tend his vegetables, which would then arrive in the kitchen, ready for the creation of a delicious dinner by Annabel's mother Anne. Together, her Annabel's provided their family with a healthy diet.
In the 70s, the teenaged Annabel became a card-carrying hippie/feminist, totally against consumerism, and left school at 16. Her mother took her to Europe in the hope of convincing her that the real world wasn't as bad as it seemed but was unsuccessful. On her return, Annabel moved up the Whanganui River with some friends to live an alternative lifestyle; they grew vegetables, cooked over a naked fire and lived off the land. With no cooking training, Annabel spent years catching her own food, experimenting with different methods she had observed in her mother's kitchen. Now, after 20 years of cooking professionally and having all her recipes tried and tested, her wish is to share her knowledge, skills and experience with everyone.
What is your favourite city in the world?
I think it would have to be Paris. There is so much beauty everywhere you look, and people take care around nourishing that idea — from little things like the cakes in the window of a patisserie and the way food is displayed at the markets through to grand, gorgeous monuments and art. Everything is conveyed with a sense of care, style and elegance. It's so stimulating and it whets your appetite and appreciation for life and being alive.
Who have been your biggest influences?
My mother was a terrific cook and such an inspiration. When I was a teenager she introduced me to Julia Child's cooking and cookbooks (I think she knew I was going to be a cook even then). I really responded to the way Julia approached food — fearlessly and with such confidence. When I was living in Brazil in my early 20s, in the seaside resort of Buzios, the people I was staying with asked if I could make croissants (I was always cooking). So I rang home and asked Mum. She sketched out the line drawings of "how to make croissants" from Julia's book Mastering the Art of French Cookery and sent them over to me. Before long, people started coming around wanting to buy my croissants and then all of a sudden I had a little business. That was the moment I figured out I could do something I really loved and make a living.
A few years later, I wrote to Julia to ask her advice on what I should do in the world of food, knowing I didn't want to be a chef. She was nice enough to write back, suggesting I join an American foodie organisation by the name of the International Association of Culinary Professionals (IACP). So I did. I met some really interesting people there and learnt so many new things that taught me that working in food would be an adventure I would never tire of.
What are you favourite utensils and why?
I love my wooden spoons. That simple action of stirring a pot or pan over the heat with a wooden spoon is very soothing. It makes you feel really connected to what you cook — which never feels the same with metal or synthetic materials. I also have a favourite very old steel knife I got all those years ago in Brazil. It's no good for acid fruits and vegetables, as it stains, but it has a fine blade that's easily sharpened and it's gorgeous to cut with. My little ceramic ginger grater and microplane are two tools I take everywhere with me.
Your favourite dishes?
Are we talking crockery here, or foods? If it's crockery, then in a former life I must have had a fine china shop. I am crazy about china, especially fine china antiques. In Paris this year, I found a shop on Rue du Bac with extraordinary old Chinese platters with pricetags upwards of €40,000 a plate (yes, forty thousand). They were so exquisite. The old lady who owned the shop could see I was completely taken by them and let me pick them up and hold them, and take some photos. Luckily, I didn't drop them! If it's food dishes, I actually like to eat really simple, fresh foods that have not been fiddled with. I just love the food of Italy with its rustic simplicity and celebration of seasonal flavours. Ditto for French country food. It's not brash or show-offy food. It's about honest flavours, provenance and the handing-down of family traditions. The dishes are the kind we all love to eat and come back to time and time again. It's the kind of food that makes you feel nourished and deeply satisfied.
What is your view on organic vs non-organic food?
Like most people, it is important to me that the food I eat is safe. You would like to think that's a given, but these days it's not. If food has been organically grown then I know there won't be any pesticides or other chemical residues that I have to worry about. I also think that growing food organically speaks to a sense of integrity in the food chain and a commitment to sustainable, environmentally friendly farming practices, to which I attach real value.
What advice would you give to readers when selecting ingredients for their cooking at home?
Shop with your senses to seek out what is the freshest, best-quality produce and, if you can, locate a local market or farmers' stand to shop at. That way, you can connect to what is fresh and seasonal — fish that is gleaming and smells of the sea, vegetables that sit up and look bright. If you start with good ingredients, it's so easy to transform them into a yummy dish. Buy small amounts often. Don't fill the fridge and the cupboards — you will end up throwing out too much. I read some research indicating that in the Western world we throw out more than 25 per cent of the food we buy!
What is your advice to people who don't cook — due to busy schedules etc?
The most difficult thing for busy working people with lots of demands on their lives (isn't that most of us these days?) is that you have spent all day thinking, so by the end of the day you are really tired and the last thing you want to do is think about what to eat, concentrate on some recipe you have not made before and worry whether it might work or not. It can just all feel too hard.
So you need to be really well organised with everything you might want at hand in the pantry and have a nice deli of "fridge fixings". Then, when you are exhausted and out of time, you can just take an "assembly" approach. Toss some cooked pasta with those yummy deli fixings you have in the fridge, get the salad greens that are already washed and toss with goodies from the pantry: almonds, fetta, deli roasted peppers. It's less about actual cooking and more about assembling good flavours together.
Slow cooking and roasting are two great cooking methods for busy cooks. You don't have to stand over the stove — everything goes in to cook and you leave it till it's done. Roast chicken or lamb or a piece of salmon and a big tray of roasted vegetables is always a good standby. You can tart it up with lemon zest and rosemary or a splash of balsamic vinegar or a sprinkle of Moroccan spice blend, but it is actually really good just plain and simple.
What sets your cooking apart?
I am a home cook rather than a chef, so I am not really interested in doing culinary gymnastics in the kitchen. I want good, honest flavours that make people go "yum". People say the reason they love to cook my recipes is that I make it so easy to produce something that tastes really good. That's certainly what I strive for. I have also learnt to make food taste good without using lots of fat. I acquired those skills at a nutrition course I did at the Culinary Institute of America some years ago and it's an approach that has infused my cooking style ever since. All those croissants I made (and ate) when I was in Brazil turned me into Miss Porky. The nutrition course was the turning point to being a natural, not overweight, size. I never have to diet — I just know the things I should eat as the mainstay of my diet and I like to share that in my cooking.
What unusual combinations of flavours have you created?
Ooh, there were some odd ones in the early days when I experimented without really knowing anything about what I was doing. That is part and parcel of being self-taught: you constantly experiment and challenge ideas. There is a fine art to fusion cooking — crossing flavours from different cultures. It's too easy for a dish to lose its balance and integrity. But I do like to add Asian aromatics like ginger, chillies and citrus zests and juices to my food to bring it to life. I like to utilise ingredients that contain umami — a natural glutamate that you find in things like miso, fish sauce, parmesan cheese, anchovies and tomato paste (not all together, though!). They provide a savoury deliciousness that adds real depth and mouth-smacking satisfaction.
Your signature dish?
That's a hard one as I am always making something new. Once I have really figured out the recipe, I am ready to move on to the next challenge or idea! If I eat something that's really delicious I often go away and try to figure out how to make it. That creative process drives a lot of what I do. However, people do rave about a few dishes I have got really well sussed. One is the slowcooked pork belly that I do in the show, served with a roasted capsicum sauce. It really does melt in your mouth, with the crispiest, crunchiest crackling. Slow-cooked oxtails with star anise and ginger is another dish that always generates requests for the recipe. My wok-smoked salmon and potato flatbread is another favourite combo.
Your least successful dish?
I think whenever I try too hard and make something complicated, with too many flavours, the dish loses the essence of the ingredients I'm trying to showcase. It's also never successful when you try to shortcut the base ingredients. If you start with a piece of meat that has not been aged it will always be tough and not have the same flavour. I think the worst dish I ever made was ham steaks with coffee and bourbon. They were truly awful. The flavours just did not work.
Who is the most important person you have cooked for? As MFK Fisher once said, "I cook for myself and others." I really enjoy cooking for people I know and care about. There is such a sense of nourishment around that.
Any tips on cooking/gardening in general?
It's such a buzz to be able to pick something for your dinner, even if it's just some herbs or some salad greens from a small window planter box. There's a sense of achievement and connection to the food you are eating, which is rewarding way beyond the effort involved. Confidence is the greatest attribute you can bring to cooking. Have a go and, if for some reason your efforts don't turn out as you thought they should, then try again. What's to lose? If you handle ingredients with confidence and have a sense of the roadmap of where you are going (which is what a good recipe should provide), then it is much easier than you might have thought.
When you cook, you can bring your family and friends together around the table and have so much fun in a really simple way. If you don't cook, the chances are you are going to be eating a whole lot of barcodes — food that has gone through an industrial process with all its incumbent additives. You'll be consuming all those numbers that you have no idea what they are or what they mean, and generally lots of extra sugar or salt or fat. When you eat fresh ingredients, your system wakes up and feels alive.
Sesame & Oregano Lavosh
Preparation time: 15 mins Cooking time: 15–18 mins Makes about: 40
Lavosh is a thin, crunchy Middle Eastern bread that's delicious as a picnic snack or served as a predinner nibble with blue cheese and dried fruit. In this recipe, I flavour it with sesame and oregano, but you could also use fennel seeds, parmesan and chillies. The wholemeal flavour adds texture and makes it a healthy oven-baked snack. Cut any shapes you like — as long as the dough is very thin, you'll get a fabulous crispbread.
INGREDIENTS
1 cup plain flour

1/3 cup wholemeal flour

2 tbsp each black & white sesame seeds or 4 tbsp one kind

1 tbsp finely chopped fresh oregano or 1 tsp dried oregano

1 tsp salt

¼ cup extra-virgin olive oil

1 tsp sesame oil

½ cup water

To finish: extra-virgin olive oil flaky sea salt
METHOD
Preheat oven to 165?C and line an oven tray with baking paper. In a mixing bowl, stir together the flours, sesame seeds, oregano and salt. Mix the oils and water together and add to the dry ingredients, stirring to form a soft, pliable dough. Divide the dough into 4 pieces and roll each out on a lightly floured board as thinly as possible. Each piece of dough should yield a rectangle about 34cm x 16cm. Cut each rectangle into strips measuring about 4cm x 17cm and roll again. They need to be virtually see-through. Carefully transfer strips to a baking tray, brush lightly with oil and sprinkle with flaky salt. Bake until crisp and pale golden — about 15-18 minutes. Allow to cool fully, then store in an airtight container.