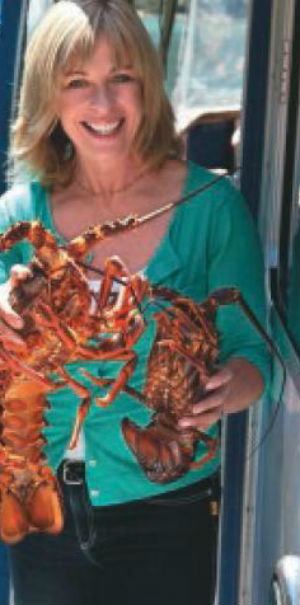 The Free Range Cook Annabel Langbein shares her food philosophy and talks about her passion for fresh produce with editor, Melanie Gardener.
If you have seen any of Annabel Langbein The Free Range Cook shows on television, you will have a very good idea of Annabel Langbein's stance on food and produce. In the flesh, her passion is no less keen; in fact, it is even more so as her obviously strong feelings towards a simple approach are conveyed with every word, every mannerism, every shot of eye-contact. "This book [Annabel Langbein The Free Range Cook] is very much a slice of my life," she explains. "It was shot at our little cabin down at the lake [in New Zealand's Central Otago] where we have a very simple set up — not a lot of technology.
What I love about being there is the very simple rhythm of that life, being able to connect with the community and grow much of our own food". Annabel explains that her goal in life is "not to eat too many barcodes" which is a fabulous way of saying that, by preference, she uses the supermarket for basic items but aims to grow and supply her own food much of the time. Married to a farmer, Annabel is also able to source meat from her husband's farm. "I think it's very easy to be wooed by the idea of convenience," Annabel goes on to explain. "But if you work with very fresh, very good ingredients, it's easy to be a good cook. Simple and satisfying flavours that deliver on taste are my goal. It's not about spending a lot of time or a lot of money.
There is something very fulfilling about delivering on taste while keeping it simple." Annabel quickly realised that the philosophy she applied to their time in the cabin could also be applied to their everyday life in the city. "I'm a home cook, not a chef," she states. "So I often think I'm my own best audience because I'm a busy, working mother and my focus is on time spent around the table, not crying in the kitchen over risotto!" There is a lovely anecdote in Annabel's book in which she refers to herself as having turned into "the Michelin man" as a result of sampling too many rich, fatty desserts while cooking in a restaurant when she was 19.
Annabel says this experience was actually a catalyst for her to embark on training at the Culinary Institute of America where she completed a course for chefs on nutrition. "The course was an epiphany and I came to understand why I was feeling so heavy," Annabel laughs. "I learnt to cook in a way that was subliminally healthy and not have treats every day." Annabel's love of food and cooking can be traced to her mother's influence. Annabel even says that her mother knew Annabel was a cook before she did. "My mother was a fantastic cook," she confides. "She was a Home Economist but chose to stay home.
My dad had a job in the city but he'd come home and get changed, then go out into his vegie garden and my mother would make this really gorgeous meal out of whatever he brought in." Annabel says her mother was also very artistic and would take the time to create an atmosphere or ritual around dining. "It didn't matter if it was a simple Spaghetti Bolognese, my mother would light candles and set the table," Annabel remembers. "I started, as many kids do, with baking. I'd always want to come and help because there was the chance to lick the beaters or roll out the cookies or bake the cake. It would come out of the oven and smell so fabulous. It was such a simple way to feel successful as a child," she adds.
Annabel never originally considered cooking could be a career. Opportunities were limited and cooking wasn't fashionable at that time, so she took on a variety of other jobs until she realised that she had a chance to do what she loved and make a living from it. It was while she was busy running a catering company that Annabel wrote to Julia Child to ask her advice. Julia suggested that Annabel join a professional organisation in America and attend its annual conference. "I met so many people who were involved in all different facets of food," she says.
In particular, Annabel remembers meeting a Frenchwoman, Danièle Delpeuch, who became her mentor and dear friend. "She had previously been President Mitterrand's private cook and we ended up flatting together in New York. I was an impoverished student and she had been through a messy divorce. She would go to the market and buy something really simple like a leek, then come home and make a marvellous meal out of it. "It was that spirit of resourcefulness I really valued and I wanted to reflect that in the book," Annabel says. Annabel's kitchen at home is an amalgamation of a few ideas which reflect how she uses the space and how she cooks.
Annabel had strong ideas about the design and layout of the kitchen but was very aware that the kitchen had to suit the style of the old bungalow in which they live. "We actually moved the kitchen," she explains. "It was originally at the other end of the house and was oriented so the cook looked out the window into the garden. But I wanted the kitchen to be in the centre so I could look out into the room when I'm cooking. "It is very functional and there isn't much I would change.
The only thing I haven't quite managed well enough is that I'd make the bench ever so slightly longer to give me a little more room on either side, and I'd make better allowance for composting and recycling." Annabel's other wish-list item is a walk-in refrigerator or cool room. She loves the idea of easy access to produce via open shelving and not having to constantly open and close the door of the refrigerator. It's harder for Annabel to choose a favourite dish or meal to make. As she explains, "I'm more occasion-driven. To me, seafood is the biggest luxury but I also choose what to make based on what produce is available. I'll head out to the veggie garden and pick whatever items go with what I have".
But when I ask about her most indispensible item in the kitchen, Annabel is fast with her answer. "My husband!" she chuckles, then adds seriously, "I love my Microplane system so I don't need much more than this, plus a good knife and a wooden spoon." Annabel's next few months are going to be taken up with pre-production then filming of the new Annabel Langbein T he Free Range Cook series for ABC TV in Australia and TV ONE in New Zealand.
A new book is due for release in October with a focus on bringing her free-range values to the city. "I want families to change their approach and make new choices for healthier eating," says Annabel. "I wanted to show busy families how easy it is to put good food on the table with just a bit of planning and preparation." I bid goodbye to Annabel as she heads off for another whirlwind interview and we part ways. But I'm left with a strong impression of Annabel's passion for food and produce and I can't wait to get home and try out some of her recipes.
DETAILS
The Free Range Cook is published by ABC Books and can be found in all good book retailers.
Annabel Langbein's website: www. annabel-langbein.com