Obstacles often inspire great feats of creativity, and such was the case with this pool.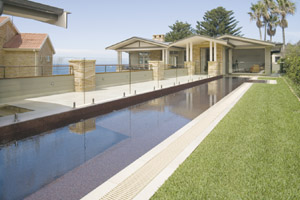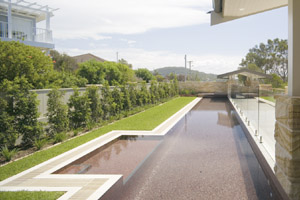 The owners wanted a pool built over the roof of the garage. This raised several difficulties: first, the roof on the garage had to be strong enough to support the pool. Second, the pool had to be made absolutely leak-proof.
After reinforcing the garage roof for strength, a waterproof membrane was placed over it and pool construction began. What a result – an attractive swimming pool and a stunning water feature that runs from the property entrance to the front door. The unique colour of the inside tiles works well with this location, as it perfectly complements the surrounding grass and sandstone wall. The tiles selected were Biazza Glass Mosaic in terracotta red with a gold flash.
FreeStyle Pools also directed much attention to preserving the positive features of this location, specifically, the impressive views of the beach. For this reason, the pool fence was constructed of frameless architectural glass so as not to impede the view. On the other side, the tree-lined wall creates a privacy barrier from the neighbours.