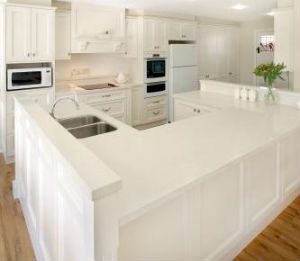 A practical kitchen with décor that has revitalised the space. 
The renovation of this kitchen meant the rejuvenation of the homeowners' lifestyle and home. The design by Abbey Kitchen Designs is functional and elegant for a family that wanted to incorporate lots of storage with subtle ornate features. Keeping things contemporary was a concept that was continued throughout the design process. The area had to be light and appealing, making it a pleasure to be in. This clever design could not have met its brief any better. The homeowners wanted to integrate a study area within the meal preparation space so their children could do their homework while dinner was being prepared. This versatility is what makes this kitchen special and very family-friendly.
A special consideration that the owners wanted to maintain was the U-shaped kitchen island that houses the sink, while the dishwasher is kept within the vicinity of the sink. Raised splashbacks were used on either side of the kitchen island as requested by the owners. Ample storage space was created in the many cupboards and cabinets. A fresh satin polyurethane in Antique White USA was used on the cabinets and the panels, making the room simply sparkle. Being decorative and ornate was an important feature that designer Keith Brown from Abbey Kitchens had to balance so the space would not look overworked. This was achieved in the cooktop area, which is housed by a decorative mantle that adds a touch of restrained opulence.