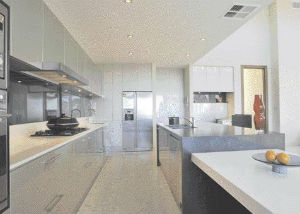 With so many bright ideas crammed into one room, it's no wonder this kitchen is a winner when it comes to functional style. 
The owners of this new home needed a kitchen that would suit all their family needs. With two elders, two adults and two young children to cater for, the design needed to incorporate functionality on all scales. This was particularly important considering at times there would be more than one cook in the kitchen.
Simple practicality suited everyone's needs, such as ensuring storage was not high for heavier items and that all utensils were safely tucked away behind drawers. The island bench is the focal point in this design. Doubling as extra food preparation space, the bench is actually a built-in dining table that can provide for an impressive six people. The different height on the benchtop allows this area to be managed correctly for all uses, even encouraging the younger family members to help with cooking.
Ample drawers and clever storage solutions have kept the area clutter-free and extremely practical. From the large utensil drawers to the filing drawer for the office area/bar, every possible use for this extraordinary area has been considered. Contrasting colours abound in this room while the striking metallic Shanghai Red on the benchtop adds pizzazz and an interesting central point. This kitchen is a fine example of style meeting sheer functionality.
Jag Kitchens' clients are pleasantly surprised to learn that the company's expertise extends to outdoor kitchens, bars, robes, entertainment units and other speciality areas. Visit Jag Kitchens' website to see a few of the many examples available.