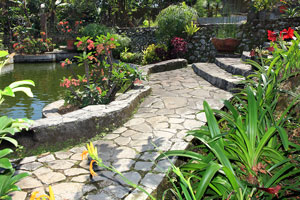 Georgina Martyn
BoldSimplicity
www.boldsimplicity.com.au
Q. What drew you to garden design?
A. At the age of 15 I had my first real connection with nature after designing and planting the front garden at my late mother's farm. Bringing that vision to life with my own hands was a very powerful experience. Another major influence was the garden surrounding my late grandmother's property Astolat, a Victorian Italianate mansion in the Melbourne suburb of Camberwell. With its historic plantings and unusual species, it was here I developed my love of old fashioned foliage plants. 
Q. What training have you had?
A. I studied at The University of Melbourne, Burnley Campus, graduating with a Bachelor of Applied Science in Horticulture and set up my own business in 1996 at the age of 22. More recently I trained with Sustainable Gardening Australia. As a result, BoldSimplicity is now a member of ECLIPS (Environmentally Certified Landscape Industry Professionals), an initiative which recognises industry professionals for their commitment to environmentally sustainable design practices.
Q. What is your design philosophy?
A. BoldSimplicity is both our business name and the company's design philosophy. Our aim is to create a strong, striking, simple ground plan, softened with plantings, with emphasis on bold foliage combinations, dramatic use of sculpture and interesting material selection. Environmental and social sustainability is at the forefront of every garden we design. 
Q. What do you like most about your work?
A. The greatest pleasure comes from bringing joy and peace to other people's lives by providing a beautiful garden that works for them and offers unexpected delights. Learning that people are using their garden in ways we intended offers great satisfaction. I particularly love watching children engage in imaginative play in the gardens we design. Knowing too, that through our work we are helping the environment is greatly important. 
Q. Do you have a design signature?
A. Our design signature is the strength of the plantings, offering harmony, balance and a full garden experience. We tend towards innovative, quirky design with gardens tailored specifically to the needs of each client. Our trademark is the use of asymmetry and organic flow with strong graphic shapes.
Q. How important are design awards?
A. We have won several awards over the years. Most notably, we won the gold medal for best landscape display at The Melbourne International Flower and Garden Show, winning every time we entered a garden – in 1997, 1998 and 1999. Returning in 2002, after the birth of my son, we won another gold medal, as well as the coveted City of Melbourne Award of Excellence for the most outstanding exhibit and the Horticulture Media Award for best use of plant life. Design wise, entering competitions encourages highly quality, innovative design; socially, the process offers valuable networking opportunities; and business wise, winning awards brings credibility.
Q. What else are you involved in? 
A. I produce and present a sustainable gardening show on our local community radio station 94.1fm 3wbc, between 10-11am every alternate Saturday morning. It streams live worldwide via www.3wbc.org.au. The aim is to inform, inspire and educate the audience about sustainable design issues, and bring people's awareness to upcoming horticultural events. We discuss topics such as tree care, biodynamic gardening principles and sourcing sustainable materials, to the latest garden design book or horticulture course. 
Q. Where is garden design headed?
A. I think garden design is heading towards being more environmentally and socially sustainable with emphasis on appropriate plant selection, responsible material choice and work practices. I would love to see more community gardens, particularly creative produce and play gardens in the local government sector, especially for people who would benefit from being involved in gardening and may not otherwise have a chance to experience nature.