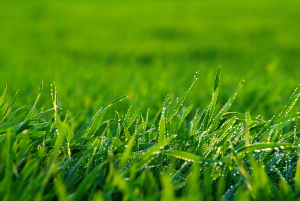 A hardy groundcover makes for a great lawn alternative when planning a water-wise garden
Story: Karen Booth
For many of us, the smell of newly mown lawn evokes childhood memories of Sunday afternoons spent watching Dad push the Victa around the backyard. When you're a kid, lawn mowing is a spectator sport. Not so for the unlucky parent charged with the task of keeping the lawn trimmed and terrific. The truth is, maintaining a lawn is a time-consuming task and it's very thirsty work — for the lawn, at any rate.
Did you know that you use more water irrigating one square metre of lawn than you do watering a garden bed of the same size? Of course, there are some types of turf that don't need oodles of water to survive, but for the growing number of Aussies staring down the barrel of water restrictions, it has become a case of the less lawn you have to water the better.
This doesn't mean you have to rip out every blade, although plenty of folk are certainly doing this. You could start by just removing awkward or isolated patches of lawn that have failed to thrive or are difficult to mow — no point in wasting water on areas that are a lost cause to begin with. This could be a strip running along the side of house, a dark corner, a shady area under a big tree or a steep, hard-to-access slope. After all, what could be more delightful than a meadow of hardy Australian native daisies?
Groundcovers also act as a form of living mulch, preventing the soil from drying out, discouraging weed growth and helping to stabilise sloping sites, thereby reducing topsoil run-off. While mostly perennials are used, some low-growing shrubs are also suitable. Whether used to replace a section of lawn, fill a bare patch around trees or decorate a rockery, groundcovers have an important role to play.
There are lots of attractive, water-saving groundcovers available that you can use to reduce areas of lawn or dress up difficult corners or slopes. Here we present just some of them.