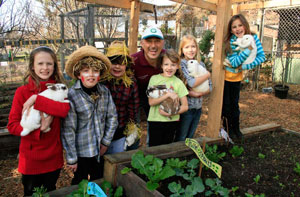 Biological Farmers Australia is "the voice of Australian organics", spreading the word about organics and supporting the work of farmers and producers in the organic industry 
Public relations manager Holly Vyner was raised on her family's sheep and cattle property near Armidale in NSW. In the mid-90s she completed her studies at the University of Queensland in English literature, Spanish and Japanese languages as well as a Diploma of E-Commerce. Holly's professional work experience varies from language teaching and translation to various forms of certification, including ship classification. She has worked in Australia, England, Chile and Japan.
Holly joined Biological Farmers of Australia (BFA) in 2004 and in her capacity as PR manager expanded the BFA's PR section from one person to five over three years. Under her management the BFA's Bud logo grew to enjoy approximately double the recognition of any other certification logo in Australia, according to independent research in 2009.
Since February 2009, with the support of several key people, BFA has moved from strength to strength financially, professionally and in the credibility it has established inside and outside the organics industry. Holly is determined to see that BFA continues on its current successful path and that the Bud logo becomes as powerful a symbol of integrity in the minds of consumers as the Heart Foundation Tick. She spoke to Good Gardening about BFA …
Were you always into organic practices and recycling? Recycling has appealed to me since my first visit to Japan when I was 16. The Japanese are highly resourceful, recycling a larger array of items than we recycle in Australia, even all those years ago. I also enjoy being resourceful in every way I can. Organic production is certainly based on similar principles.
How did the BFA begin? The BFA was initially formed in 1988 to advance the interests of farmers and processors who wished to promote and protect the message of organics and to set organic standards. The BFA moved on to develop its certification program to independently verify that farmers and processors were producing in accordance with those standards. The BFA is made up of both organic and biodynamic farmers, so the name "biological farmers" was defined to promote a simple message that such farmers were using natural methods, not synthetic or unnatural methods, to produce their foods for consumers. The Bud logo, a registered mark with IP Australia and the oldest Australian organic certification mark in the country still in use, was designed by Rosemary Dunn of South Australia at her kitchen table. The Bud represents everything that BFA is about: the growth and promise of spring, the sign of big things growing from the initial organic movement, and the strength and logic of nature and natural (biological and organic) systems in guiding our choices in life. Most importantly, the Bud represents Australia's leading certification program, ensuring integrity of organic products in the marketplace.
 What is BFA's mission? BFA is the pre-eminent organisation for the organics industry and movement on matters relating to education, trade, promotion and advocacy. We deliver invaluable services and support for members and assist in the development and prosperity of the industry and progressing the ideals of the organic movement.
Who are you trying to help through BFA? The Biological Farmers of Australia (BFA), "the voice of Australian organics", is Australia's largest member-based organic body, a not-for-profit organisation that represents the interests of more than 3000 organic primary producers, processors and traders. The BFA serves the greater community, taking on the role of public educator about the benefits of organic food and farming and supporting the growth of organic domestic and international markets. Among the support which the BFA provides to its members is market intelligence, exporting requirements, trade information, contacts and networks. The BFA publishes the majority of trade and consumer resources for the organic industry, including the Australian Certified Organic Standard, which is available free to download via the BFA website and is the standard by which the majority of the Australian organic industry is certified. The BFA Group is best known for its widely recognised Australian Certified Organic Bud logo found on organic products in Australia and overseas. Research by consumer watchdog CHOICE shows the logo is recognised by 60 per cent of consumers and influences the purchasing choices of 40 per cent of shoppers.
What programs has the BFA set up? BFA has set up the Organic School Gardens Program and the number of schools registered to the program is approaching 600. It was launched in May 2010 and is available free to all Australian primary schools and anyone with an interest in developing their own organic garden. The program features practical and step-by-step online resources and lesson plans, including supervisor's notes, recipes and much more. It's designed for students aged 8–12 years and provides written materials for lessons taking place both inside and outside the classroom. Children are the future guardians of the planet. Sharing our knowledge of organic cultivation will provide the younger generation with the skills and enthusiasm they need to face the challenges of producing delicious, healthy food in a sustainable manner for an increasing population on a warmer planet.
What does the program cover? Nutrition, how plants grow, photosynthesis, building healthy soil, recycling through composting and worm farming, sowing seeds, planting seedlings and green manures (includes practical mathematics), the importance of soil pH, saving water, crop rotation, caring for plants and the environment, organic pest control, seed saving. In learning organic methods, students gain a better understanding of how gardening and farming practices affect the environment and how they can improve soils and the quality of their food while working in harmony with the environment. We are also delighted to announce that renowned supermodel and organic advocate Miranda Kerr has lent her support, donating funds towards the program.
How, when and why did chemicals become part of common gardening practices? After WWII the use of synthetic agrichemicals became common practice in agriculture. Yield improvements were notable; pesticides, herbicides and disease control products were quick, easy solutions. The same products then became available to gardeners for the same reasons. Long-term effects to the soil, human health and the environment could not be gauged.
What harm do you think we have caused to the environment from bad gardening and living habits? Synthetic agrichemicals in food production have been shown to have high costs in terms of contamination of our waterways, harm to marine life and disappearing biodiversity above and below ground. Nitrogen fertilisers in particular have contributed greatly to greenhouse gases and excessive use of synthetic chemicals has rendered an increasing number of properties no longer arable. We tend to have lost our connection with the land and the way our food has grown now that most Australians buy their food from the supermarket, and now that food is produced mainly through monocultural systems. Most people seem to be comfortable with eating food that has been produced as cheaply as possible without the health of the environment or the consumer in mind. Education is changing this but it's slow and expensive.
What do we need to do to fix this problem? Buying organic food is an everyday investment in our environment, in sustainable agriculture and animal welfare as well as the health of those who eat it. Every time you purchase certified organic products you are supporting producers and their families who are investing in the foundations for a brighter future.
For more information www.bfa.com.au, www. organicschools.com.au
Tips for growing your own produce
1. Select a good area for growing. Choose a place that gets enough direct sun and is not under trees. You can grow in a garden bed or in a raised bed made from timber or corrugated iron as well in pots and boxes.
2. Add organic matter to your soil! The best way to make garden soil healthy is to keep some recycled organic waste in the top 10cm of the soil. Depending on the quality of your soil, you may need to purchase compost or organic topsoil. It's worthwhile doing this to get the best start.
3. Start a composting system. Use an aerobic composting system and in 6–8 weeks you will have good compost that contains all the minerals that plants, animals and humans need for good health as well as most of the soil's nitrogen and humus.
4. Choose open-pollinated seeds for your produce. This means you can save the seeds and sow them next time. As well as saving money, sowing this seed again will grow the best plants as they come from plants that have adapted well to your local climate and soil conditions.
5. Remember to water and mulch! Keeping plants healthy through having enough water in the garden soil is important so that plants do not become water-stressed. Stressed plants send out smells that encourage pests to attack them. Mulching your garden stops water evaporating in hot and windy weather and keeps the organic matter in your precious top soil.