On a skinny block in the middle of Sydney, a futuristic design offers a shining example of passion and perseverance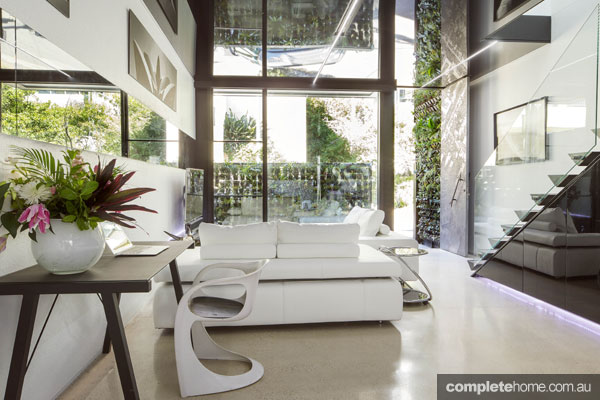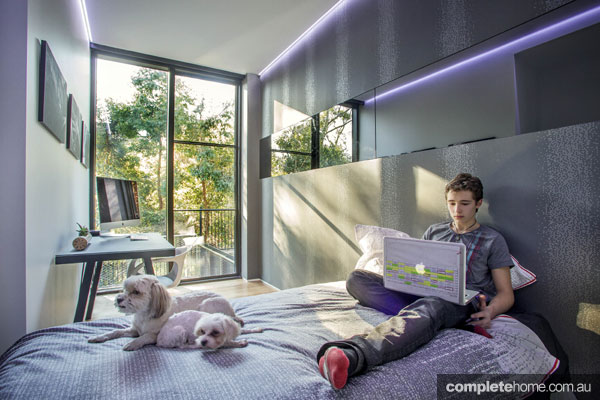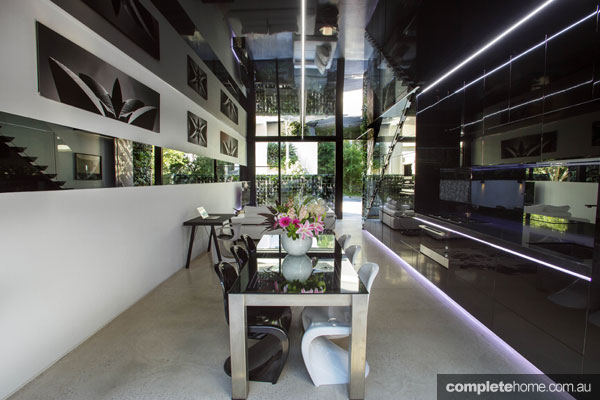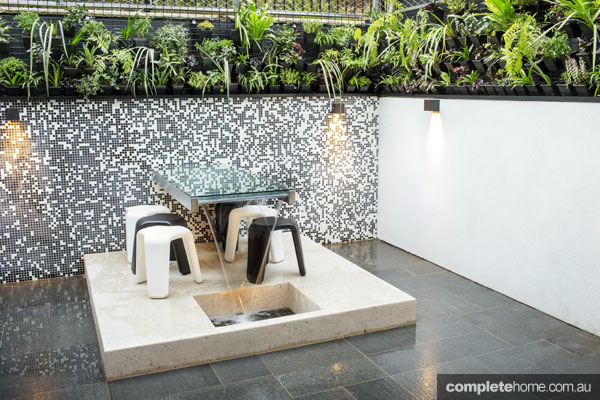 HOUSE / Forest Lodge Eco
LOCATION / Forest Lodge, NSW
DATE COMPLETED / August 2013
As a building designer and builder working in Europe and America for many years, Chris Knierim was exposed to a new way of building, a more efficient method for both the homeowner and the environment. He returned with a clear vision to introduce sustainable design into the Australian landscape, originally planning to build in the leafy suburb of Church Point on Sydney's Northern Beaches. However, after a neighbour's tree demolished the chosen site during a storm, Chris and wife Belinda relocated to the city, moving into their investment property in Forest Lodge that was, as fate would have it, situated next to a vacant block. Chris and Belinda bought the block and the planning began.
When he approached Sydney City Council with his idea, Chris assumed they'd want a house that would blend in with the rest of the street, which boasted many heritage homes. As this vacant block had never been built on before, the council actually encouraged Chris's design to be contemporary and to reflect the century the house would be built in, like the other houses in the street. Chris decided to pull out all stops and embrace a 100 per cent eco philosophy, where sustainable materials would be utilised wherever possible. "If you build a home properly to start with, your initial outlay may be more, but in the long term your costs will be reduced," he says.
Chris completed 90 per cent of the work himself from the ground up, his green thumb playing a hand in just about every element of construction. His goal was to create a sustainable home that would not be just a building, but "a structure that would be a landmark and state its place in history, influencing the way people design in the future". He planned to incorporate many elements that had never been used in Australia before.
An innovative underground heating solution began the journey of this unique build. "A subterranean heat storage system located underneath the house is heated by the roof-top solar tube collectors, releasing heat on demand to the entire house," Chris explains. "There are two independent solar tube collectors. One heats domestic hot water with a solar and electric boost until it reaches 65°C, then it switches back and heats either the ground-floor concrete slab or the heat core. The second collector is set to always heat the ground-floor slab if it hasn't reached the set temperature. The best part about the system is that it stores heat all year round for use when required."
Along with a 3500L water tank beneath the outdoor entertaining area, a polished concrete ground floor was designed to incorporate another new solar heating method. "Hydronic lines were secured directly to the steel reinforcement of the slab prior to the concrete being poured," Chris says. "This allows the solar system to run hot water through the lines, which in turn heats the entire slab, taking advantage of thermal mass heating. This is very cost effective because as heat rises, so will the temperature of the entire house."
Chris used double-glazed windows, skylights and green walls in the build, as well as recycled bricks to construct the foundations and low-VOC paint throughout the interior. A light colour on the exterior walls was used to reduce heat absorption. One of the most impressive and aesthetically appealing attributes of this home is, ironically, a space Chris and Belinda will rarely get to enjoy. The green roof was like a piece of artwork for Chris as he propagated all his own plants using the vacant land at Church Point. The roof needed to be completely self sufficient for it to be a success, therefore testing the plants and soil that would need almost no maintenance was critical. This little oasis on the roof not only acts as an insulator for the home, it's sustained by water from the storage tank, which also supplies a touch of luxury in the rear courtyard — a suspended waterfall table.
With Chris integrally involved in the design and build of their home, Belinda was inspired to add her personal touch to the front door. With the help of metal surface specialists at Axolotl, Belinda took a helicopter ride during which she photographed an aerial shot of their home and the surrounding area. The image was laser-etched onto the door, then coated in aluminium and hand-sanded and –polished to a high degree, creating a very unique and exceptionally exquisite entrance to what can only be described as an extraordinary home. "The finer details are the difference between a house and a home," claims Belinda.
As if building a house, especially one as unique as this, wasn't hard enough, at 10 months into the build Belinda was diagnosed with cancer. This fuelled Chris's eagerness to finish the project — "It is even more relevant now so that I can get Belinda back to her own home" — and he completely absorbed himself in the venture. Now on the mend but acknowledging her recuperation will take time, Belinda reflects that, in hindsight, focusing whole-heartedly on the house was "our process of coping".
On January 23rd, 2014, Lord Mayor of Sydney, Clover Moore, officially opened Forest Lodge Eco House, recognising its revolutionary design and congratulating Chris and Belinda on their passion, perseverance and accomplishments. This residence is not only a design that has set a benchmark for the future of Australian architecture, it has also become a place for a family to reunite and recover. Certainly a statement among its heritage-style surroundings, the Forest Lodge Eco House is an exquisitely innovative structure that represents the future but also shows respect for the past.
Project details:
Builder/Designer Chris Knierim, Designer Constructions Group Pty Ltd
Structure
Concreter Brad Paton, Kookaburra Concrete
Engineer Andrew Cutuk, Cam Consulting
Roof Membrane Mathew Sipek, Sika Australia Pty Ltd
Structural Steel Roof System Speedfloor Pty Ltd
Fixtures And Fittings
Appliances Fisher & Paykel
Decorative Entry Panel Axolotl
Frameless Railing Theo Alexakis
Home Automation Ava Consultants
Irrigation Davey Water Products
Roof Access Hatch Gorter Hatches
Reflective Ceiling Jean-Pierre Fertelle
Solar System Australian Sun Energy
Tiles Trend Australasia Pty Ltd
Garden Trellis Tensile
Services
Electrician Jared Brown Electrical
Excavation A1 Demolition & Excavation
Landscape Architecture Code Green Pty Ltd
Powder Coating Action Malek
Excavation A1 Demolition & Excavation
Landscape Architecture Code Green Pty Ltd
Roof Leak Detection Ild International Leak Detection
Written by Karsha Green
Photography by Nick Wilson
Originally from Grand Designs Australia Volume 3 Issue 2