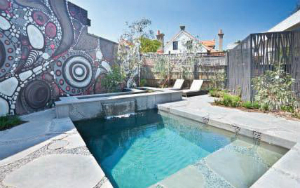 A dramatic piece of modern wall art gives this small urban space plenty of punch
Words: Karen Booth
Photos: Patrick Redmond
A work of art in its own right, this backyard garden and pool design incorporates an array of distinctive decorative elements, chief among them the graffiti-style, hand-painted feature wall. An original design by street-inspired Melbourne artist Jay Walker, the wall art boasts strong modern organic shapes that pick up on the patterns, colour and textures incorporated in the stone paving.
The paving is a sea of random shapes around which rivers of pebbles ebb and flow. It extends into the plunge pool, running down each side and onto the floor, reinforcing the impression of an ornamental pond.
The pool is the centrepoint of the design. It has a wide, shallow ledge that doubles as an entry point and a seat where you can rest and watch cool water spill from the sheer-descent water feature into the pool below. This water feature is integrated into the front-facing wall of the elevated pond that sits at the head of the pool, its surface dotted with aquatic plants and its L shape leading you around to a pair of comfy sun lounges.
From the pond-style plunge pool, you have the perfect vantage point to savour the strong colours and bold contemporary design of the wall art. The colours of this unique backdrop don't just reflect the colour of the paving, they mirror the grey-blue tone of the laser-cut metal privacy screen — yet another work of outdoor art — that wraps around the car-parking area at the back of the house.
The planting has been kept to a minimum so the decorative design features are the focus, but where plants have been used they have been chosen for their colour (with the emphasis on grey-green foliage and pink-flowering groundcovers) and their hardiness.
Although this is a small urban space, it delivers maximum impact. It also proves you can stand conventional wisdom on its head and still enjoy great success. While many would have been tempted to paint the main wall a pale receding colour, this project proves you can turn a large wall into a dynamic in-your-face feature and not create a space that feels hemmed-in or dominated.
As with all successful projects, this one was a collaborative effort between the Eckersley Garden Architecture design team, the landscape contractor, Parterre Landscapes, and the pool builder, Structural Pools.