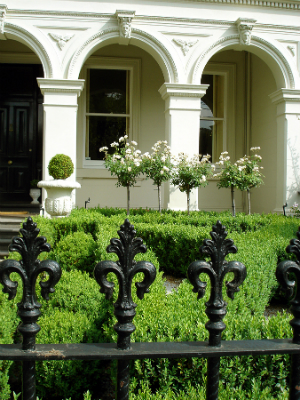 If you're looking to give your garden a more classic formal look, topiary and trimmed hedges are time-honoured choices
Story: Karen Booth
Invented by the Romans, topiary has become the "signature" of the traditional, European-style formal garden, although it can easily be adapted to modern formal gardens. The best topiary plants are evergreens with small leaves and a tight compact form, such as the ever-popular English box (Buxus sempervirens), which has dense deep-green foliage and is used world-ide for topiary and formal hedging.
Japanese box (Buxus microphylla var. japonica), box-leaf honeysuckle (Lonicera nitida), lilly pilly (Syzygium luehmannii) and 'Leighton Green' cypress (Cupressocyparis leylandii 'Leightons Green') are among many other reliable topiary plants.
Topiary can be sculpted into many shapes: balls, cones, cubes, spirals and animal forms. The lollypop form of standard topiary is currently very popular and often grown in pairs of matching pots placed on either side of an entranceway. If potting topiary, just remember to turn the pots regularly to get even distribution of sun or the back part of the plant will start to die off.
And topiary is not just restricted to formal European-style gardens. Other cultures have a tradition of clipping trees and shrubs into pleasing shapes, such the Japanese cloud tree, where the foliage is clipped to give the impression that the tree is surrounded by floating clouds of greenery.
In a formal garden, you will find a strong underlying sense of structure and an unmistakable emphasis on symmetry and balance — often provided by hedges. Neatly clipped hedges define and contain garden spaces. Taller hedges can provide privacy or function as a backdrop to a focal point such as statue.
The same plants that can be used for topiary can typically be used for hedging — such as English box, lilly pilly and various conifers — but you might like to opt for a flowering plant such as the orange jessamine (Murraya paniculata), which produces a burst of perfumed small white blooms, or Camellia sasanqua, a sun-loving camellia that produces large, white, single blooms.
While maintaining a hedge is probably a little easier than keeping topiary in shape, you still need to be prepared to make the time to keep everything trimmed. Topiary and formal hedging are not low-maintenance options, but as the garden showcase here proves, the effort is more than worth it.
This elegant European-style garden, the work of Sydney's Good Manors residential gardens, was designed for gracious outdoor living — and to stir the senses. Cupressus torulosa, sometimes referred to as the Himalayan or Bhutan cypress, was used to create a grand Tuscan feel and provide the owners with a magnificent vista from inside the house.
The formal majesty of this tall evergreen is complemented by five-metre-high mature Japanese camellias (Camellia japonica), which were transplanted to the site to extend an existing hedge, and the orange jessamine and Japanese box, which were used to create formal lines of hedging that would function as privacy screens. The buxus was also used for the topiary, adding drama and definition to the garden.