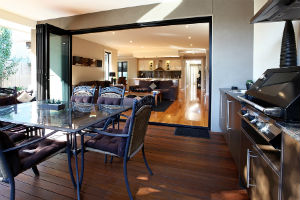 Whether creating a gourmet meal or feeding a hungry family, cooking outdoors has never been this easy
Story: Diane Norris
Back in the 1980s, Australians were happy to build their backyard barbecue with some salvaged bricks and a sturdy cast-iron hotplate positioned atop. There was plenty of room for the predictable sausage and chop and it was usual for the hostess to be running back and forth from the kitchen laden with salad trays, drinks, cold meat, cooked meat, serviettes, glasses, plates and much, much more. Not any more.
The humble barbecue has evolved dramatically and the whole concept of cooking outdoors has undergone a metamorphosis emerging into the complete alfresco dining experience so many of us enjoy today. Sleek, chic and sophisticated, state-of-the art barbecues — many of which form the centrepiece of fully equipped outdoor kitchens — are transforming backyards into the quintessential entertainment experience.
Tim Grosser, Product and Marketing Director for Barbeques Galore, says: "Outdoor kitchens are a strong design feature of backyards and really complement the Australian lifestyle and we are seeing a greater use of these outdoor areas and more sophisticated cooking techniques."
The most important element of any kitchen, including the alfresco one, is the cooking appliance. Typically, barbecues are still favoured and they can be as simple as a wall-mounted barbecue plate or in-built model, perfect for balconies or perhaps a tiny courtyard, to the more elaborate multi-burner models, barbecue islands or sophisticated modular arrangements, which are often referred to as 'outdoor kitchens' in their own right.
The latest trends in barbecue units encompass every conceivable feature that you would find in a well-equipped interior kitchen. At the upper end you might find one continuous bench housing a cook top, with a sink adjacent and cupboards or drawers for storage right underneath. Or you might prefer the mix-and-match flexibility that a modular arrangement brings. And you're likely to find you have the choice of side burners, roasters, rotisseries, wok burners, smoke boxes and char-grill tops — and don't forget the fridge!
According to a survey commissioned by Barbeques Galore, Australians have never been so enamoured of their barbecues. "We're now seeing record numbers of Australians upgrading or adding to their barbecue set-up so they can enjoy the lifestyle these outdoor solutions create. In 2006, 47 per cent of barbecue purchases were upgrades," says Tim.
"In good weather, 63 per cent of Australians are cooking on their barbecue at least once a week and 33 per cent are using it two to four times a week. This means we're now at the point where owning a premium barbecue is just as important to an Australian as owning the latest car or LCD television."
These state-of-the-art barbecues can be placed in more relaxed alfresco settings, such as under an awning or integrated into a sheltered area by the pool, but increasingly they are being incorporated into fully equipped, fully fledged outdoor kitchens housed in structures like gazebos, pavilions or purpose-built rooms. These sophisticated, custom-designed outdoor kitchen and dine-in set-ups offer both style and functionality.
For the full outdoor dining experience, these outdoor kitchens contain everything: bench and storage space, refrigerators, dishwashers, sinks with hot and cold water, rangehoods, breakfast bars, and more. In addition to the barbecue, they might also incorporate a teppanyaki grill or a wood-fired oven.
Wood-fired ovens are growing in popularity and are a great alternative — or additional — alfresco cooking option. Ideal for delivering the most perfect of pizzas, you can also whip up a nice roast in this type of oven. Colloquially called wood-fired, new models run on bottled gas alone or a combination of wood and gas. They are easy to install, often shipped fully assembled and come in a wide range of colours and styles.
Just like indoor kitchens, good lighting is a must in the outdoor kitchen. Spots or low-voltage downs can illuminate the preparation, cooking and serving areas and, as the evening unfurls, these can be easily dimmed to create an appropriate mood. And, with the average Australian family now enjoying at least two nights per week dining out-of-doors, heating must also be considered. Slow combustion stoves, in a stylish enamel or stainless finish, can become a focal point. Wood storage, if needed, can provide an abstract work of art in a wall cavity or storage bay.
When selecting materials and finishes for an outdoor kitchen area, keep in mind that attention must be paid to the elements, which is why cabinets and benches must be weather-proof and any fittings made of marine-grade metal. And any electrical or plumbing work must be carried our by a licensed contractor.
It may not always come cheap, but everything the gourmet cook or avid entertainer needs to prepare and serve a fabulous alfresco spread can be accommodated with the very latest in barbecue and outdoor kitchen trends, so enjoy!
10 top tips

Celebrity chef Ben O'Donoghue from the popular television program Surfing the Menu shares these simple tips to get the most out of your barbecuing experience this summer:
Be prepared: Create a menu or theme and do your preparation beforehand so that you can grill and relax at the same time.
Never leave your post: This is the golden rule when barbecuing, unless, of course, you can hand the tongs to some one you can really trust.
Keep it simple: Create a menu around a food culture, doing one to three dishes — meat, fish or chicken, or all three. This will give a balance of flavours to your banquet supplemented with two or three salads, vegetables or breads. If cooking for four people or less, just reduce your combination.
Spice it up: Add some different flavours by using rubs, spices and barbecue glazes to brush on your meat or fish when finished cooking.
Try different techniques: Create an impact — visually and on your taste buds — by smoking with wood chips or fresh herbs. Indirect cooking is a great way to utilise this technique.
Keep it smoking: If you're smoking with your barbecue, just remember, if you're looking, you're not cooking.
Be bold: Why not cook a whole fish wrapped in fresh herbs, to impart the flavour of the herb and a wonderful smokiness to the fish?
Don't start drinking too early: Booze has the same effect on barbequing as it does on driving. Get the job done before you have too many.
It's all about timing: Try cooking a staggered menu so you don't end up flapping about when it all goes on at once. This way you won't lose all the heat in the barbeque and it won't end up messy, burnt or raw. Try slow cooking a larger joint or cut of meat with indirect heat and smoke before resting the meat, then apply more heat and direct grill smaller cuts or other items.
Don't forget the sides: Create a range of dips and small items for guests like garlic bread, bruschettas or even quesadillas.