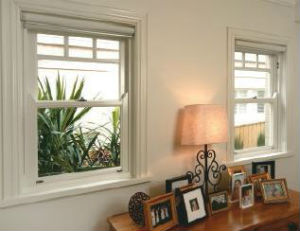 Extending the life of your timber windows and doorsTimber windows and doors
Timber windows and doors are a beautiful feature and will add value and character to your home. Timber is a natural product and does need some care and maintenance but, with the correct protection, timber will stay looking good for the life of your home.
Many of the problems experienced with timber occur due to weathering and changes in moisture. This change in moisture will cause the timber to warp, crack or in some cases, rot. The following advice will help you keep your windows and doors in good condition.
Painting
All timber products should be painted, sealed or finished before being used to help protect them from changes in moisture — regardless of whether they are being used inside or outside.
Always follow the paint manufacturer's instructions, particularly on the number of coats required. Trials have shown that windows and doors with the correct number of coats of paint or finish outlast and perform better than those not finished adequately.
Always use good-quality paint or coating systems. Be sure to pay particular attention to "internal" versus "external" paint systems and use one that is appropriate to where you are utting the window or door. When it comes to doors, the entire door should be painted immediately before hanging: this includes behind the hinges and lock. Most
importantly, you should always paint the top and bottom edges.
Paint colours
Doors and windows exposed to direct sunlight should be painted with light reflective colours as dark colours absorb light and heat. Using dark colours will cause a drying effect on the timber and could cause warp. The use of a lightcoloured topcoat is essential.
Your paint supplier or manufacturer can advise you on the light reflectance value (LRV) of the colour you have selected — the higher the LRV, the less heat the timber will absorb and the longer the expected life of the paint finish. Black has a LRV of approximately 5 while white has an LRV of approximately 95. Choosing paint colours with a LRV of greater than 50 is a wise choice. Using different colours on the exterior versus interior will cause uneven heat and moisture absorption, particularly for doors. This can lead to warping and jamming. The finishing paint or stain should be the same colour on all sides.
Protect your door from the weather
Doors are taken for granted until they start to jam, warp or buckle. Weathering causes many of these problems. Properly sealed doors will help reduce the effects of the sun and elements. However, having doors in exposed situations (ie, without an awning) can still lead to absorption of moisture and drying in direct sunlight. Hang timber doors in protected areas to avoid these problems. If you have no choice but to have a door directly exposed to the elements, choose a door that will stand up to the weathering
(eg, aluminium).
Regular inspections and maintenance
Regularly inspect your windows and doors for any paint breakdown or perishing seals, pay special attention to possible paint breakdown around glass openings and joints. Once the paint system has begun to break down, you should repaint. Annually lubricate moving parts such as rollers, locks and hinges. Regularly vacuum or brush away all dirt, sand and rubbish from tracks and clean debris from weepholes in window sills and door treads.
Taking care of your windows and doors will increase their lifespan and save you money in the long term.
This information was brought to you by JELD-WEN Australia.