From works of traditional classic beauty to more modern, abstract pieces designed to complement contemporary surrounds, Surrey Sculpture Studio can create a unique sculptural work that will enhance any garden, courtyard or pool area.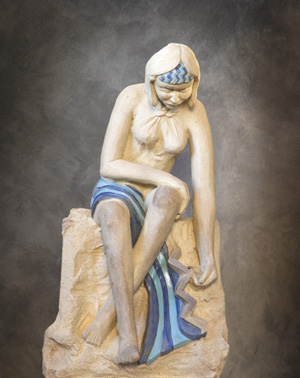 At Surrey Sculpture Studio, principal sculptor Graeme Foote leads a small but dedicated and highly experienced team of sculptors who specialise in making individual, custom-designed pieces.
For more than 20 years, this Melbourne-based studio — which operates under the motto
"functional art to enjoy" — has been producing custom-made fountains, architectural sculptures and garden art for homeowners and landscapers the length and breadth of Australia.
Aware that garden ornamentation isn't just about adding a finishing flourish, Surrey Sculpture Studio will work in close collaboration with you to ensure that the piece you select — or commission — will not only complement your garden and your lifestyle, it will bring you great pleasure for years to come.
While their reputation for custom-designed
pieces extends country-wide, they are equally renowned for their comprehensive selection
of stock items, including handmade fountains, fountainheads, wall bowls, drinking fountains, sculptures, seats, pedestals, plaques, birdbaths, garden-edge tiles and fireplace mantles.
If you want your fountain or sculpture in bronze, they offer a variety of finishes. Or you might prefer terracotta, raku (sandstone look) or stoneware in a wide range of coloured glazes. All pieces are designed and made in their bustling studio in the Melbourne suburb of Surrey Hills and can be sent anywhere in Australia. Made-to-order items in the standard range take between eight to 12 weeks. Custom-designed sculptures take just that little bit longer