Traditionally, picture-hanging in the home has been a messy and problematic process. Due to modern innovations, picture hanging is now a piece of cake.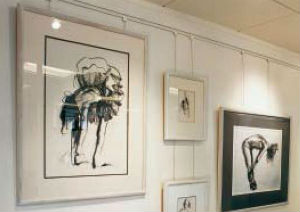 Pictures … whether a child's first masterpiece, family photograph or original painting — if they're in a frame they all need to be hung. Where? Over on the left and about this high. You get out the power drill. Easy. A wall plug and a screw. Only one problem: it has become obvious you should have put it in the centre and a bit higher.
Now you have another big hole to fill and paint. Do it right, like you'll see in galleries and thousands of homes around Australia. Use a picture rail, vertical hangers and easily adjustable self-locking hooks that slide up and down. You'll be amazed at how many different styles you can choose from so it will blend with the decor. There are even some that include 12v power for lighting. You need the drill, but now you'll get it right first time. Slide in one of the hangers with a hook on it, try the picture. Wrong place? Move the hanger and slide the hook up or down.
Managing Director of PHS Pty Ltd, Luke Norman, says, "The industry has recently witnessed some interesting developments with systems that now let you integrate digital picture frames among your display that are powered directly from the picture rail, removing the need for that annoying black cord that everyone wants to hide." The Brisbane-based company can be contacted on 1300 883 645. 
Specialists can advise over the phone and provide a free quotation, and PHS Pty Ltd also offers an installation service in Brisbane, Sydney and Melbourne.
Picture Hanging Systems Pty Ltd
Tel: 1300 88 36 45
Web: www.picturehangingsystems.com.au