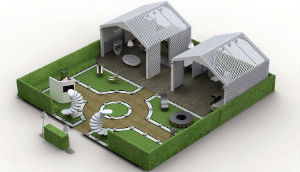 For so long we've focused on how we live inside the home. We ask questions such as how should we decorate? What colour, furniture and lighting works best in this space? And we consult experts for their design help. Now let's apply all these questions to the outdoor room. With so many hours of daylight during summer it makes sense to spend more time outside. Spending time outdoors is healthier than being cooped up inside, and even winter days and nights can be enjoyed alfresco as long as your outdoor room is protected from the elements and some thought is given to heating and lighting. Modern homes now incorporate an outdoor room as a given, not an extra, as designers and builders realise that Australians love being outside. Incorporating an oversized pool into the backyard just isn't enough anymore. Instead, the fifth room accommodates an outdoor kitchen, bathroom, living room and entertainer's quarter. But no matter how large or how small your outdoor area, you can create your own outside oasis with some careful planning and beautiful products. In this feature, we uncover the latest trends, products and design solutions to convince even the most stubborn couch potato to go outside.
THE NEXT STEP:
The Bisazza glass mosaic pattern, Pratoline, is part of the Opus Romano collection. Designed by Carlo Dal Bianco. Photography by Federico Cedrone. Seed rug from Groundcover from the Jamie Durie Signature collection by The Rug Collection. Coast pavers blend the freshness of bright, white sandy beaches and pale stone hues to create natural shades that bring to mind the weathered sandstone cliffs that line the coast. The new range is currently available in two colours: a light sandstone Shell (pictured) and Driftwood, a brown blend. As if crafted by a stonemason, each Coast paver features clean, saw-cut lines and an immaculately smooth surface that has been inspired by natural stone.
LOUNGING AROUND:
Take your pick from this assortment of comfortable seating that is designed just for you We take so much care choosing that perfect sofa, those ideal chairs and ottomans in our living rooms. Switch the focus and move outdoors. A fast-growing trend, the outdoor room has become a revolution. Take a seat with one of these masterpieces that doubles in function — visually appealing and a comfortable piece of furniture for you to enjoy.
LIGHT YOUR WAY:
As we head to the fifth room to entertain and relax, lighting is a key element that we need to get right Outdoor and landscape lighting is an integral part of all good outdoor room design. Most of us work long and hard and we get to use these outdoor spaces as a retreat and places in which to entertain after hours. Although most elements of the room are important, few set the mood as much as lighting. The lighting needs to be a blend between functional and practical. Safety is important and for this reason, all steps and level changes are highlighted and the floor generally washed with light. This has the additional advantage of making you feel safe and your guests comfortable. Subtle lighting on table surfaces is important — remember you need to light a dark surface considerably more than a lighter one. Any other lighting needs to accent features surrounding the room. It's all in the planning Pay particular attention to switching and circuits when planning the lighting. When you walk into a house, one switch does not light the entire home. You choose what you want lit depending on your activities. It is no different outdoors. Case in point: a task light for the barbecue needs to be able to be switched off independently as soon as you have finished with it. Glare should also be avoided. Favourite project Configuring the lighting for a country property springs to mind. It was the second project I'd done for this particular client; it was great because we had an understanding and it allowed me to be more creative at the design stage. The property was extensive and the areas and views quite unique. In terms of the lighting, the timber decking and the extensive rock walling came to life and it transformed this expansive space into an intimate entertaining area. I was required to use only energy-efficient lighting in this project and this further enhanced the experience.
ART ALFRESCO:
Do you have an outdoor wall that needs brightening? Or perhaps you need something to draw the eye to a particular section of your garden?
There are so many ways to add colour and interest to an outdoor room — from metal artworks and trellises to wall planters, plaques, clocks and murals. Adding some form of artwork to your outdoor room will help to create a seamless transition between indoor and outdoor areas. It will also heighten the perception that the space is indeed a separate "room", while infusing your own style and character into it — much like you do with interior décor. With a little imagination, you'll start to see other parts of your outdoor room that can function as walls and house artwork — for example, the facing part of a step can be jazzed up with a mural or piece of art to create an original point of interest. If you like to keep your wall art green, perhaps a planter is the best solution for you. This can be mounted to a wall and a plant added to create the illusion of the plant becoming an image within the frame. Rusty-look metal pieces are a huge modern-day trend in outdoor room décor and can be found in local nurseries, garden centres and even some homeware stores. If the budget permits, however, you could seek out a specialist retailer who supplies laser-cut artworks. The images cut from these range from butterflies and birds to buildings. These can be lit from behind to create a stunning feature at night, but are equally beautiful during the day. Trellises need not be limited to wire or wood. These, too, can be made from metal to create a contemporary look suited to most backyard themes. Weaved or straight, these are wonderful backdrops for climbing plants or even simply placed on their own. The ambience candle lighting produces is unmatched and, if you are one to enjoy a candle or two lit in the evening, you'll be pleased to know that outdoor candle wallhangings are increasing in popularity and creativity. They are available styled in many ways, such as within metal circles that look like bubbles or twisted metal lines. 3D pictures are great for those looking to add a touch of colour to their outdoor room. 3D wall art takes months to produce, beginning life as sculptures in a workshop. These come in the predictable outdoor images of butterflies, dragonflies and flowers but you can also find them with frogs, lizards and even kangaroos in interesting scenes. It's easy to lose track of time when you're out in the garden or relaxing in your outdoor room, but thankfully there are many weather-friendly clocks available. It's a good idea, however, to keep clocks in a sheltered position as moisture can become trapped behind glass or plastic faces and may play havoc with batteries. There are those without glass faces, which will be the best option for any outdoor application. Clocks are available in many materials, such as stone, cast metal (for example bronze or copper), terracotta and wrought iron and, for added interest, you could get a sundial, thermometer or barometer to accompany it. Water features need not be limited to a freestanding structure and can be built into a wall. At the moment, a big trend in feature walls in general is stacked stone. Turn the wall into a water feature by installing a pump and reservoir; the water running down the wall makes for a striking focal point while the peaceful acoustics of trickling water can drown out street noise and encourage relaxation. Another water wall option is the rain curtain, which is a row of tiny water streams that create the illusion of rain falling. It can be up-lit by LED lights to form a highlight in your outdoor room. Another water wall option involves water running down a sheet of glass and falling into a trough. Both of these can be used to separate areas and act as walls. Jazz up a wall and carry on the theme of your outdoor room with a mural. You can have virtually any scene painted on an outdoor wall. Perhaps you need a backdrop for your pool, or perhaps there's a vista you wish you had from your outdoor room but it's unattainable — have it painted on your wall! It is so easy to enhance your outdoor room by adding interesting elements and artwork to a wall. Those discussed here only skim the surface — and no matter which option you go with, it's sure to instil a unique point of difference to your outdoor space and give it that personal touch.