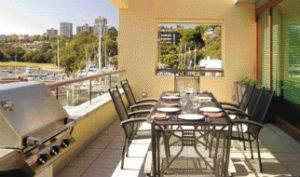 Capturing pristine harbour views, this high-rise outdoor living area is a stunner
Many crave the convenience of high-rise living but are reluctant to forgo having some kind of outdoor area for relaxing and entertaining — just as long as it's easy to maintain. In response, the designers of upmarket apartment developments have begun making provision for somewhat larger, better oriented balconies.
But whenever your apartment was built, you can convert your balcony space into an outdoor room, which is what the owners of this apartment did. With its wonderful views of Sydney Harbour and bushland hugging the far side of the bay, this apartment flows over two levels and is cocooned within a block boasting a residents-only marina.
A strong, contemporary palette of colours was chosen for the exterior finish of the apartment. The upper balcony leads off the master bedroom while the lower balcony, with its sheltered courtyard, is accessed from the kitchen and dining room.
The owners travel frequently, so any outdoor design had to take maintenance matters into consideration and any plant material had to be hardy enough to survive with no attention at all for periods as long as one week. But when the owners are in town, they like to entertain, so the outdoor design had to cater for that, too.
The task of designing the outdoor spaces was given to Tim Barnes of Balcony Gardens Australia. To frame the seating area on the upper level and soften the bold colours and solid architecture of the building, Tim chose tapered square pots and planted them with agaves. These are very hardy succulents so are ideal for the exposed drying conditions of a balcony. To prevent soil erosion from wind, smooth river stones were placed around the base of each plant.
The large lower level balcony is carved into two outdoor living zones: one for barbecuing and dining; the other a small courtyard that's now the owners' favourite place for a relaxed Sunday brunch. By painting the back wall of the courtyard a strong colour, attaching a trio of dry ripple wall plaques and flanking the entrance with matching pots, Tim was able to manipulate the perspective to make the space seem farther away than it really is. This gives it an added sense of sense of privacy and provides a design feature that can be viewed from the dining area.
To create a co-ordinated look, the same tapered square pots, agaves and river stones that were used in the upper seating area and at the entrance to the courtyard were used in the cooking/dining area.
Balcony Gardens Australia
3/12-18 Tryon Road
Lindfield NSW 2070
Tel: (02) 9880 9399
Fax: (02) 9416 3099
Mobile: 0411 744 747
Email: tim@balconygardens.com.au
Website: www.balconygardens.com.au