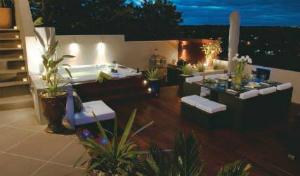 Set atop a garage commanding amazing views, this roof garden is an entertainer's delight
Words: Carrol Baker
Imagine a stunning entertaining space that would rival that of a luxurious resort, right at your front door. For one Melbourne family that dream has become a reality. And, yes, we said "front door", because this dream haven has been created on the roof of the home's garage.
The Italian owners wanted a vibrant outdoor entertaining space that would cater for large family gatherings and bring a dash of contemporary European style. Under the guiding hand of Lily Kovco from NVP Property Group, the space has been artfully transformed into a striking and functional outdoor area the whole family can enjoy.
The state-of-the-art outdoor kitchen is a foodie's delight. It's fitted with a modern stainless barbecue, wok and teppanyaki plate, so everyone's palate is catered for. And if all the family drops around for dinner the owners can also fire up their gas-fuelled pizza oven.
A 12-seater Aurora spa tucked into a corner adds a touch of pure indulgence. It's ideal for entertaining with top-of-the-range features including built-in speakers, iPod docking station and an LCDCD screen that pops up when you want to watch something and then slides back down into a recess when it's not needed. Palms set against a timber backdrop near the spa add a tropical feel to the space, which combines European styling with a resort feel.
Several water features are used to create focal points in the design. The soothing sounds of cool running water add to the relaxed feel of the entertaining space.
The colour palette is based on crisp, pure whites and chocolates. Scatter cushions in a mix of vibrant colours and neutrals complement the decor.
Comfortable sun lounge chairs offer a quiet Zen space to take in the glorious views, while plush sofas and additional built-in seating provide ample room for guests. The dining setting can also accommodate up to eight guests. Outdoor furniture is constructed from durable synthetic rattan wicker and is UV and water resistant. During the warmer months, two side-arm umbrellas offer shade to the dining and exterior lounge areas.
This stylish entertaining space is warm and inviting. An artful infusion of leafy tropical plants and fragrant species harmonises with the cool, contemporary lines of the design and the European design touches.
To complement the tropical resort-like feel, the owners added cycads in planter boxes. Gardenias, with their subtly fragranced white blooms, pick up on the fresh white colour scheme and add sensory appeal.
This chic urban oasis was designed to maximise the outlook provided from the garage rooftop location. Family and friends can relax in luxurious comfort, taking in the jaw-dropping panoramic vista, which includes views to Mt Macedon, Melbourne airport, Maribyrnong Valley and beyond.
When darkness falls, subtle ambient lighting transforms the entertaining space. Guests can dine in comfort under a canopy of stars, taking in the twinkling lights of the city's nightscape.
Many structural elements were also modified and revamped to create the entertaining space. The concrete stairs were extensively refurbished and sprayed with a non-slip finish etched with a diagonal design. The decking area was refurbished with merbau decking and coated with decking oil to give it a lustre. The inclusion of several raised areas through steps and platforms in the design offers more definition to the separate entertaining spaces.
Intricately designed curved metal artwork in the rendered walls adds interest and complements the balcony design in the intimate dining alcove at the top of the stairs. This private space is perfect for cosy dinners for two with the warmth of a gas fireplace and several candelabras to add a shimmer of sophistication.
To create a private haven for the family, the exterior areas were screened using treated pine covered with blue board, which was then rendered. Plantings of bird of paradise, with their glossy emerald leaves and vibrant flowers, add to the resort feel and contribute a flourish of seasonal colour.