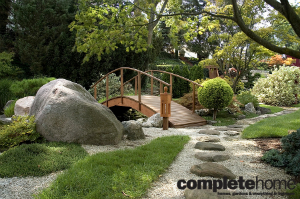 A beautiful and sustainable garden need not cost the earth
As an all-round winner in sustainability, this beautiful garden in Sydney's inner west incorporates a number of principles that will ensure the longevity of the garden, minimise its impact on the environment and greatly benefit its owners. 
To begin with, rainwater tanks have been utilised to capture precious rainwater that will be used to maintain the garden and composting and worm farming have been incorporated to reduce landfill and improve soil fertility. All decking is constructed from locally sourced, sustainably harvested timber. Recycled materials, such as crushed concrete, have been employed wherever possible. In addition, edible plants have been used as garden borders and careful plant selection and soil preparation has helped to save water. 
The sustainable principles also flow on to the maintenance of the garden. The use of organic pest and weed control instead of chemically produced pesticides reduce health hazards for the young family. Hand weeding and pruning is employed, as opposed to the use of petrol-powered trimmers, to obtain the highest level of detail while using as little natural resources as possible.
All in all, this outdoor space is an outstanding example of sustainability, highlighting that you can truly have it all — a stunning garden with minimal environmental impact.
"Not new to sustainability, Green Rooms Gardens & Landscapes has enforced these principles for several years and offers skilled services both to construct and maintain landscapes throughout Sydney," says Green Rooms' landscape designer, Jock Gammon.
"Green Rooms recognises its responsibility to the environment and conducts its business practices accordingly. Our offices are run 100 per cent by green energy, we enforce the concept of the paperless office and we aim to minimise our overall footprint on our planet, earth."
GREEN ROOMS GARDENS & LANDSCAPES
Suite 1/22 Gardeners Road, Kingsford NSW 2032
Tel: (02) 9662 8188
Fax: (02) 9662 6588
Email: info@greenrooms.com.au
Website: www.greenrooms.com.au
Photography: Clare Kelly