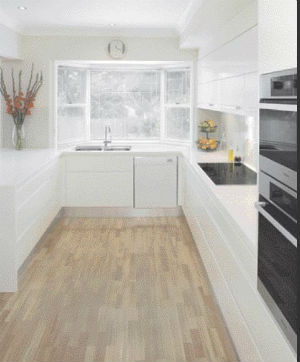 Light and airy, this appealing space entices the owners back into the kitchen. 
Dark and run-down, the clients' previous laminate kitchen was not somewhere they wanted to spend time. Wonderful Kitchens and designer Andrew Dee changed all that in an instant, transforming the tired kitchen into a much more attractive space capable of everyday cooking and entertaining. The space required a large amount of building work to ensure it realised its full potential. A privacy wall was removed to open up the room and the irregular ceiling heights also had to be rectified. To optimise the amount of available bench space, the straight benchtop was cleverly wrapped around the large bay window.
All the heavy elements have been concealed out of the view of visitors and are positioned down one end of the kitchen in an appliance wall. Also hidden behind closed doors — and drawers — is a range of Blum fixtures designed to ensure the kitchen operates at the height of efficiency. The refreshed design features a layout that flows nicely into the adjoining living area to create one cohesive space that the owners now enjoy spending time in. Not only has the "wonderful" makeover given the kitchen a new lease on life, it has also renewed the owners' love of cooking and entertaining.