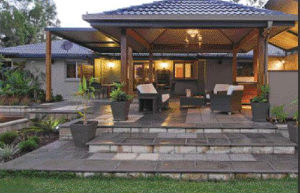 Relaxing is a breeze when you're lounging about in this refurbished outdoor pavilion
The brief from the owners of this Queensland home was to create a backyard paradise resembling the holiday resorts they had visited during their travels in the Pacific.
The first step was to give the existing entertaining pavilion a new lease on life. This involved stripping the paint from the support structure to reveal the original timber colours underneath and then highlighting the ceiling with Shadowclad, a natural timber sheeting which was given a Latte Coffee finish.
New lighting and paving were also on the agenda. A feature of the former is a three-teardrop zinc light fitting which casts an interesting pattern on the ceiling while the paving slabs (a mix of Coffee, Macchiato, Chocolate and Beech colours) complement the exterior of the house and delineate different zones within the pavilion.
The covered link between the pavilion and house — a coffee-coloured polycarbonate stretched membrane set within a frame of ironstone powder-coated steel and aluminium — was designed as a skillion roof to encourage light and airflow.
The outdoor kitchen, the walls of which are framed with the same coffee-coloured Shadowclad used on the ceiling, needed to incorporate a barbecue, teppanyaki plate, wok burner, fridge, sink and storage. After much deliberation, a U-shaped layout was decided upon. The predominantly stainless steel components were then integrated with stained timber detailing and a stone benchtop with cream splashback tiles. Adjustable stainless downlights illuminate the appliances and bench top.
A long timber boardwalk links the entertaining pavilion with the newly created timber pavilion at the end of the pool. It also provides access to the pool and the sunken spa while taking you on a journey of discovery past lush foliage, colourful scented plants and a tranquil watercourse.
Throughout the garden, the planting hints of the tropics and of exotic resort destinations. Kentia, Bangalow, solitaire and parlour palms form the upper canopy under which you will find a variety of striking foliage plants including beehive and torch gingers, baby panda bamboo, bromeliads and cordylines.
For ground cover there's scented gardenia and for shade around the spa and far boardwalk there's a trio of relocated frangipanis. Screening to the various garden areas is provided by a mix of trees and shrubs.
Thanks to the expertise of Camouflage Landscape Design, the revamped pavilion is a marvel of modernity and all of the components work together to provide an inviting multi-functional tropical retreat that is, above all else, very liveable.
Project details
Landscape design and construction by Camouflage Landscape Design 1 Hayward Avenue, Cashmere Qld 4500 Phone (07) 3882 0866
Email tedvon@ozemail.com.au Website www.camouflagelandscapedesign.com Photography by Glenn Weiss