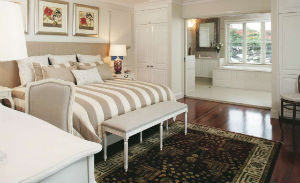 Brisbane-based John Croft Design has established itself as one of the leaders in interior design in Australia. Not only does the company represent quality, there is a certain je ne sais quoi about what the team does. They look after every client exceedingly well, which is why clients keep coming back and why most of the company's work is by referral. It was, of course, no different for this home, which was designed by John Croft Design's senior interior designer, Renee Burgess.
What was different for Renee was that the residence had to be used not only as a family home for the owners, children and grandchildren, but as a bed and breakfast as well. It was up to Renee to make the home appeal to a large number of people, as well as have a personal touch for the family. The Montville home was a 30-year-old plain-brick abode, built in the centre of town in a Y-shape with a flat roof and long decks. One of the home's greatest qualities is its spectacular 180-degree view of the Queensland coast. When Renee started work, the home had already undergone structural renovation, with an extension adding another level for extra space. The clients had long discussions with Renee about what they wanted for the home and their desired overall look.
The colours throughout had to harmonise, however not necessarily match, so each room was interesting and different. The mix of furnishings and accessories was to be eclectic, with traditional pieces mixing with unusual contemporary shapes to add interest. All the pieces in the home were sourced and supplied by John Croft Design specifically for the look and some pieces, such as the bedheads and rugs, were custom-designed and -made. The lower level was transformed with an entry leading to a formal lounge and fireplace. A provincial-style kitchen and informal dining and living area overlook landscaped gardens and the spectacular view. A study, powder room, laundry and the master bedroom are also situated on this level. Firmly establishing this home's distinctly Hamptons feel, a wooden and wrought-iron staircase takes you to the upper level, which is equipped with a kitchenette/reading area and sitting room mezzanine for the guests. Visitors also enjoy two large bedrooms that overlook the views, each with their own ensuites. Both bedrooms lead out to one large balcony, which can be divided by bi-fold doors for privacy. There would be a lot of traffic at times in this area, so all fabrics needed to be hard-wearing without a commercial hotel-like feel.
The clients were very clear that they wanted the home to be warm, inviting and comfortable. Soft washable fabrics were chosen and are accented with plenty of cushions and custom-made rugs for comfort. The relaxing autumn colour palette of reds, browns and oranges adds to the rustic feel. This area gets quite cold so the ambience created is very cosy. Classic creams were chosen for bathroom and kitchen areas, with glass feature splashback tiles adding a modern touch. Marble injects elegance and is complemented by silver gilt frames. Renee used lots of rich, regal patterns, such as bold stripes and delicate jacquards, together in bedrooms and living spaces, while quiet nooks feature ornate tables and mocha lounge chairs to snuggle into. Vibrant fire reds bring the whole home to life. John Croft Design's clients are absolutely ecstatic with the result. The home is now everything they had hoped it to be and more. The space transforms beautifully from family home to newly named "Montville Village Bed and Breakfast" and is definitely an extra-special place to stay, not only for B&B guests, but the whole family.