This kitchen is much more than just a meals preparation area — it's the heart of this family home.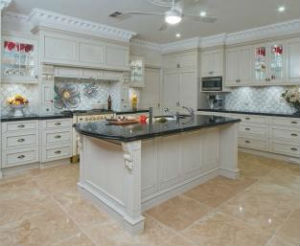 As an example of a classic kitchen, they don't come much better than this. The owners gave the designer a basic floor plan from which to work with only one stipulation: the kitchen was to be designed as the centrepiece of the home, a place friends and family could enjoy separately or together. The owners, John and Anna Andreatidis, had visited the Maytain Cabinets showroom and were immediately taken with a display kitchen that showed off the Farmers Café Latte finish together with a black granite benchtop and striking chimney stack. It was decided that the subtle shadings and creamy colour would be perfect for this home. As well as being a delight to view, it was important that the kitchen be functional, practical, reliable and efficient, so careful consideration was given to how the space could facilitate a range of activities. "Of equal importance, the kitchen had to fully embrace the elegant and attractive elements to ensure ongoing visual pleasure and delight just from being in the room," explain John and Anna. With ample bench space and a significant amount of storage, this kitchen meets both requirements easily. The cabinets, doors and bulkheads were offset to create visual interest and maintain the theme of the space. Ample work and general lighting ensure the owners remain in control, even when catering for crowds.
Of particular note is the large, galley-style pantry that has been hidden behind the oven area. John and Anna enjoy the benefits provided by the full-length bench that acts both as storage as well as additional preparation and serving space when entertaining. The main visual piece in this kitchen is the striking Farmers chimney, which includes a variety of spice drawers and crafted corbels. It is the perfect complement to the freestanding Ilve stove that the owners call "a functional work of art". "We wanted the selection of colours, style and appliances to be bright and ornate but also gracious and sophisticated," say John and Anna. "It is the place where our family starts its day together, spend time together, where celebrations and feasts are conjured and a place often full of activity".