You've decided to go ahead with your home renovation. The family is growing and your house needs to grow along with it. So how do you create a home that is child-friendly, safe, yet still stylish?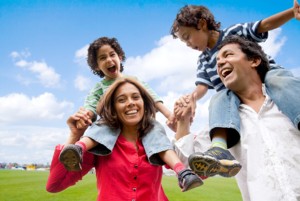 If you are creating a family home, it's important for the whole family, the adults and the children, to feel comfortable within the home. If it's a place where virtually everything is 'off-limits' to the children, then you're likely to create trouble. The reality is that a child who is truly at home in their house is far more likely to be happy and well behaved. The aim is to create a child-friendly home, rather than a child-proof home.
The first step in this process is to carry out common-sense safety strategies. For instance, if something obviously presents a hazard to the child, remove it or change it. The other important safety strategy is to limit children's access to pools or other bodies of water and restrict access to the street.
You want to create an environment that is peaceful, encouraging and supportive of children, rather than chaotic and dictated by them. There are many benefits to an environment where children are welcome. Among them is the likelihood that the child who is free to explore in his or her home will become more alert, self-sufficient, and content to play alone. In other words, the child is supported by his or her environment rather than frustrated by it.
Mother of two, Lisa Doust, recently renovated her home and explains how she created a child-friendly environment. "The first thing I made sure that I had, more for my sanity really, was plenty of storage in the boys' bedrooms for their toys. If there isn't enough storage toys will end up all over the house, and apart from anything else, that can be dangerous. It also gets the children into the habit of putting away their own stuff. I think it's good training and they feel like they have their own space, and the responsibility that comes with that.
"For safety reasons, I think it's really important to choose furniture wisely. Choosing furniture that has no sharp edges is an obvious one. I have decided for the next few years to not have a coffee table. They nearly all have sharp edges and they're usually set at a height where children can get into everything that is on the table, including potentially dangerous items such hot drinks. The other choice I made when renovating this house was to choose finishes and colours that are easy to maintain and not so easy to permanently mark or damage.
"The same goes for wall finishes. As a rule, the higher the sheen of a paint finish, the easier it is to keep clean. For instance, a flat finish can mark, and that mark can be made worse when you try to clean it. A medium or high sheen, however, will generally handle most marks left by children and shouldn't leave a stain when you wipe off the mess.
"The other important thing to consider for child safety in the home is access to electrical plugs and outlets. I work from home and there has been more than one occasion where my toddler has pulled the plug on my computer! Now I have all my cords and plugs neatly out of sight, and reach.
"Another thing that needs attention when you have toddlers is putting locks on your cupboards. You can usually get these from any supermarket or hardware store and they cost very little. They are particularly important in the bathroom and kitchen, where there may be dangerous medicines or heavy objects that children can pull down on themselves. I also keep all my glassware out of reach. I imagine that will continue at least for the next few years!
"When we first moved into this house there was a great garden, but no fence or boundary around it. So obviously, one of the first things we had to do was to border the property with a fence so the kids were safely secured in the garden. Now they have this lovely space to play in and I feel secure when they are outside playing, knowing that they are contained and as safe as I can make it.
"It's important to me that this home should also feel like it's my home. I have lots of lovely soft and colourful cushions throughout the living area. This adds style and comfort. My bedroom is my space and the boys know that, so it's here that I can keep the art and framed photos on display. Those things still need to be secure from little hands, however, so that means that precious objects are stored high enough to be out of reach!"
Suggested do's and don'ts:
• Do keep certain areas, such as around the pool, safely restricted from children.
• Don't let children run unrestricted and unsupervised in and around the pool or any other body of water.
• Do encourage children to be responsible for their stuff in their space by supplying lots of storage.
• Do use lots of plastic containers for storage; those on casters are great for storing craft items and objects that children might want to move around with.
• Don't let children's toys take over the house, for safety and sanity reasons.
• Do make sure all electrical wiring, cables and plugs are safely placed out of children's reach.
• Don't let children play with electrical devices.
• Do choose paint finishes that are easy to clean.
• Don't choose expensive wall finishes that stain easily and are hard to clean; children will leave their mark!
• Do create a space for your child that caters to his or her height. For instance, let them have access to their clothes so when they are ready to dress themselves, they can reach their clothes.
• Don't let children have access to dangerous drugs and heavy objects in the house.