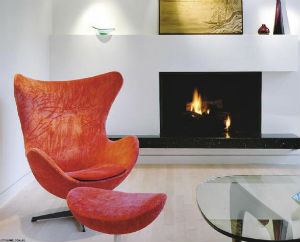 For Brian and Criss, the owners of the Hidden Cove residence, what began as a modest reconfiguration of their master bathroom in 2004 turned into a full-scale home renovation project nearly one year later. This is the story of how their unexceptional 232-square-metre West Austin cabin was transformed into an extraordinary interior space, capitalising on the home's stunning natural setting
BRIAN AND CRISS HAD lived in their home (originally built as a "neighbourhood clubhouse" in 1965) for five years prior to undertaking any renovations. Nestled in a private inlet on Austin's town lake, they wanted to take advantage of the views, the breezes and the beautiful outdoors. After a year spent researching how to best reconfigure their bathroom, they were ready to put the project out for bid.
About this time, the couple took the American Institute of Architecture tour in Austin and fell in love with the work of Kevin Alter, partner at AlterStudio Architects. They decided to call him. "We thought that because our project was small, he wouldn't be interested," says Criss, "but maybe he'd give us some referrals." To their surprise, Kevin and project manager, Keune Shawn Peter, agreed to work with the homeowners.
AlterStudio Architects brought in Joe Zamborano, a former Austin-based cabinetmaker, as head contractor. Criss and Brian shared their substantial research, explaining to Kevin that they preferred contemporary design with an emphasis on natural light and clean lines. Says Kevin, "We could talk with the clients about subtle design ideas, and they got it."
The group quickly agreed upon a central goal: to make the most of the existing building's framework by opening it to the striking outdoor views, all via a distinctly modern vernacular. Renovation began on the master bath, which originally had only one small frosted window facing the private lakeside view. The team started by replacing a formerly opaque wall with a floor-to-ceiling, sliding glass door.
The view opens to a canopy of trees, and imparts the impression that the room is floating. Further enforcing that sense is a purpose made stainless-steel sink that glides above a delicate cherry vanity. There is no visible source of water intakes or returns under the sink, an effect made possible by Cadillac radiator hoses that thread through the vanity into a disabled trap in the adjacent wall.
A Mexican riverstone-filled drain, combined with a lustrous leuders limestone floor, lends a sense of serenity to the space. Almost two years later, Brian and Criss continue to derive as much enjoyment from their master bath as they did when it was first completed. "It is the first place we go in the morning, and it still blows us away," says Brian. "You've got light and the sounds of birds and squirrels.
It is very soothing." In fact, the couple was so enamoured with the results, they decided to move into a second phase of renovations with AlterStudio Architects, focusing on their kitchen, dining room and living room. Phase two began with stripping the home's interior back to its shell. Kevin and his team replaced a palette of rough-hewn cedar timbers, coarsely chopped limestone walls, Saltillo tile floors and crude oak detailing with simple white walls, maple flooring, glass guardrails and minimalist detailing. "It doesn't necessarily have to cost a lot more," says Kevin, "but our custom work does require a tremendous amount of care." Criss and Brian say they achieved an exceedingly balanced budget.
"AlterStudio was awesome about how to use the budget," says Brian. "They advised us on where to make compromises, and where it wasn't worth it." Phase two also included opening the cramped quarters of the kitchen — formerly configured as a galley room — onto an existing double-height view of Town Lake. Now the kitchen functions as the vortex of the home's social life. It includes a folded cast-stone counter, book-matched cherry cabinets with touch-latch hardware, and back-painted glass backsplashes.
Directly below the kitchen sits the living room, anchored by a cantilevered granite hearth. "Before the renovation, the fireplace was a huge wall of ugly rock," says Criss. "After the six-metre wall was sheet rocked, it added a tremendous amount of light." AlterStudio also designed thoughtful details, such as a hand-tooled slab of granite at the base of maple stairs. This penultimate step provides the residents with what Alter calls "that special moment" before entering the living room.
A purpose-built, stainless-steel handrail directs the visitor from one space to the other. The homeowners acknowledge that the complete transformation of their living space changed the way they lived. "Prior to the renovations, we had traditional furnishings," says Brian. "The new architecture drove a lot of our decisions about décor." Through Rod Parks' Kansas City-based company, RetroInferno, Criss and Brian found numerous mid-century modern pieces of furniture. Punctuating the minimalist spaces are several large-scale photographs by local artists, as well as an 18th-century Japanese ceremonial scarf displayed like a Rothko painting. "We spend much more time at home now," says Criss.
"We grill on our patio and cook in our amazing kitchen." And with the clean, contemporary design of their residence, they say they are much less likely to leave clutter around. "Junk stresses us out," says Brian. "The feeling of our house now is very Zen — it makes a huge difference to our mindset." The homeowners credit Kevin, Keune and Joe for their masterful design ideas and meticulous execution. "We'd never done a remodel before," says Brian, "and I was convinced that it would be a horror story." Adds Criss, "Kevin, Keune and Joe were so much more perfectionist than we were.
They elevated our plans from the mundane to the spectacular." Although small in scope, the Hidden Cove project prompted the owners to think long and hard about their renovation goals. "For every hour that you put into planning and figuring out what you want," says Criss, "there is a huge payoff." The overhaul allowed both the homeowners and the architecture team to create an elegant, minimalist interior that takes advantage of the beauty of its natural environment. "We have no second thoughts about any of it," says Brian. Affirms Criss, "There's not a thing about this house that we don't love."–CHD–